Raspberries are one of the best plants to grow in your home garden. Best of all raspberries require minimal care, and they can be planted in most climates and soil conditions. However, applying the best mulch for raspberries will have the added benefit of controlling moisture loss and suppressing weeds, which in turn will ensure you get a bountiful raspberry harvest.
Best Mulch for Raspberries
Best Mulch for Raspberries
OLDCASTLE Green Thumb Mulch (Buy Online) is the best mulch for raspberries that are planted along a walkway or in a decorative garden.. This 2 cubic foot bag of black mulch will cover 25 square feet area with a 1-inch layer of mulch.
This decorative black mulch can be purchased online and delivered to your doorstep with free shipping. Or you can order it online and pick it up at your local HomeDepot.

EZ-Straw Just Straw Clean Processed Straw (Buy Online) is the best mulch for raspberries if you want to suppress spring weeds. This straw mulch blocks light better than wood mulch, and it also insulates the soil, which will help warm up the soil in the spring.
EZ-Straw will also release nutrients into the soil all season as it starts to quickly biodegrade.
Overall, EZ-Straw makes a good early season mulch for raspberries if you want to give the immature raspberry canes time to out-compete any fast-growing weeds.
USA Premium Pine Needle Mulch (Buy Online) is the best mulch for raspberries if you need to lower your soil pH. This bale of pine needle mulch will cover an area up to 80 square feet.
Pine needle mulch is a good choice if you live in an area with very alkaline soil since pine needles release natural acids as they decay.
Pine needles are also one of the best soil insulators, which makes them a great choice for people who live in cold climates since it will help protect a raspberry plant's root system from a hard freeze.
Scotts Nature Scapes Color Enhanced Mulch (Buy Online) is a high-quality decorative mulch for raspberries. Each 2 cubic foot bag of Scotts Nature Scapes will cover 8 to 12 square feet at a depth of 2 to 3-inches.
This mulch has a long-lasting color that won't fade in the sun or wash off in the rain. It's also a durable mulch that biodegrades very slowly, so it will last for years before it needs to be replaced.
Ace Pine Bark Mulch (Buy Online) is the best natural mulch for raspberries. This untreated pine mulch comes in a 2 cubic foot bag that can cover an area up to 12 square feet.
This mulch is also very affordable, and it can be delivered to your doorstep, or you can even go out and get it with Free Curbside Pickup at your local Ace Hardware Store
Bulk Wood Mulch (Buy Online) is the best mulch for raspberries if you plan on planting a large patch of raspberries. This bulk playground mulch is available from HomeDepot in large volumes ranging from 5 to 25 cubic yards.
A 5 cubic yard load of mulch will cover 1,000 square feet with 2-inches of mulch, and 25 cubic yards can cover an area of 3,600 square feet.
Seeding Straw with Tackifier (Buy Online) is the best mulch for raspberries planted in windy areas that get a lot of spring weeds. This straw mulch has the same weed-suppressing benefits as regular straw mulch, but it has been treated with Tackifier so it won't blow away in the wind.
This enhanced straw mulch is available at HomeDepot, and you can order it online and pick it up at your local store, or you can have it delivered anywhere in the USA with free shipping
Plastic Mulch for Raspberries
Red Mulch Plastic Film (Buy Online) is one of the best ways to reduce moisture loss and to control weeds.
Plastic mulch is a great way to get a jump start on the growing season since it will help quickly thaw out and warm the soil in the early spring. It's also pretty much weed proof, and it's highly effective at maintaining soil moisture even in drought-stricken areas.
Make Your Own Mulch for Raspberries
Landworks Leaf Mulcher Shredder (Buy Online) is the best mulcher for turning small branches and fallen leaves into mulch for raspberries. This electric mulcher has a powerful 15-AMP motor that can chop small 0.5-inch branches, grass clippings, or leaves into a fine mulch that you can use on a wide range of plants including raspberries.
The Sun Joe Wood Chipper/Shredder (Buy Online) is a powerful mulcher that will turn your yard waste into free mulch for your raspberries. This versatile mulcher can chop branches that have a 1.73-inch diameter, and it can also shred leaves.
The Sun Joe Wood Chipper can also easily process any dead raspberry canes you prune off your plants at the end of the season. This makes it much easier to dispose of the branches, or you can even use the raspberry cane mulch on other plants in your garden.
What Kind of Mulch Do You Use for Raspberries?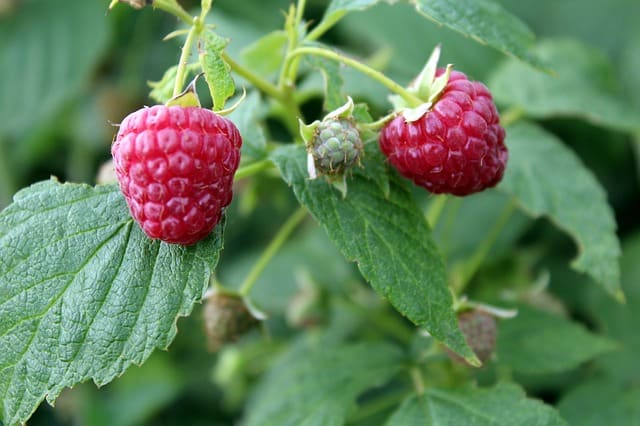 The type of mulch you can use on raspberries will depend on a number of factors which include availability, climate, weeds, and soil conditions.
In the following sections, we'll go over in more detail the benefits and drawbacks of the different types of mulch for raspberries
Types of Mulch for Raspberries
Wood
Wood is one of the most popular mulch options for raspberries. Wood mulch has the benefit of being readily available at most hardware stores and garden centers. It's also effective at helping maintain soil moisture, and it does a decent job of controlling weeds.
Shredded Wood is also very long-lasting, and it's heavy so it won't blow away in strong winds.
Hardwood mulch does have some disadvantages that need to be take into consideration.
Weeds can still grow in wood mulch since it's not that effective at blocking light, and weeds can easily push up through the gaps between the wood chips.
Wood Chips can also cause nitrogen depletion if they get mixed into the soil and start to decay.
Leaves
Leaves are a good free source of mulch for raspberries. You can use leaves to mulch a raspberry patch in the late fall to protect the plants during the winter. In the spring the leaves will start to quickly decay and give the raspberry plants a quick burst of much-needed nutrients.
Learn More: Benefits and Drawbacks of Using Leaves as Mulch
Grass
Grass clippings can be used as mulch throughout the growing season. It's also possible to use grass clippings to add some fertility to your raspberry patch since they will rapidly breakdown and release nitrogen.
Grass clippings can also be used to block out light and suppress weeds, but you need to be careful when using grass clippings as mulch since they can contain weed seeds.
Straw
Straw is a good mulch to use on raspberries if you want to block light from reaching the soil in order to suppress weeds. You can also use straw as insulation to protect raspberry plants from hard frosts during the winter. A straw mulch will also release nutrients into the soil as it decays, which makes it a great alternative to grass clippings or leaves.
Pine Needles
Pine needles can be used as a free source of mulch if you live in an area with a lot of pine trees. They are longer lasting than straw, grass clippings, and leaves since they contain oils that resist decay. They also release acids into the soil as they biodegrade, which makes that a favorite choice for people who want to grow acid loving plants in soil with a high pH.
Plastic
Plastic mulch is commonly used by commercial raspberry growers since it's very affordable and it doesn't harbor insects or disease. Sheets of plastic mulch are also highly effective at controlling soil moisture and suppressing weeds.
In addition, red plastic mulch has even been proven in scientific studies to enhance the growth rate and yield of most plants. It does this by increasing the rate of photosynthetic activity in their chloroplasts by reflecting red light back onto the plant's leaves.
Benefits of Mulch for Raspberries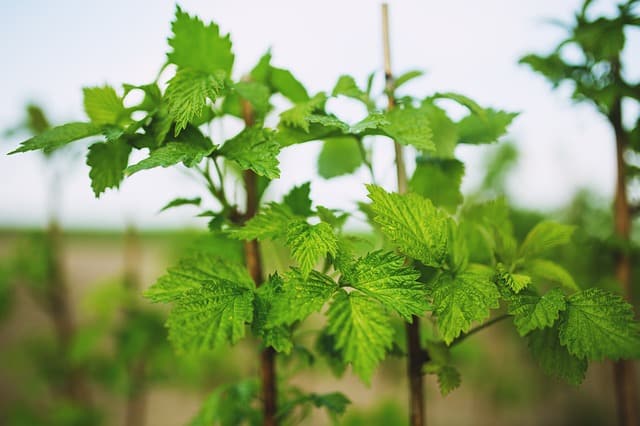 Some of the benefits of mulching raspberries include moisture retention, weed control, frost protection, and increased soil fertility. Mulch also helps reduce soil erosion, and it can also support a healthy ecosystem of beneficial bacteria, insects, and fungi.
Winter Mulch Raspberries
Raspberry crowns should be covered with a thick layer of mulch in cold climates in order to protect the roots from a hard freeze. You'll want to apply at least a 4-inch thick layer of mulch or a frost blanket over of your raspberry plants.
It's a good idea to use straw, pine needles, or leaves to mulch raspberries over the winter since these types of mulch will act like a blanket and trap more air pockets than wood chips.