Rototillers are an essential tool for any gardener. They can be used to till the soil for planting, aerating, and they can even help remove grass. There are tons of different models available, so how do you know which one is the best? On this page, you'll find the best rototiller under $500 that can handle any task while still remaining within your budget!
Best Rototiller Under $500
Best Rototiller Under $500
Greenworks 80V 10 inch Cultivator with 2Ah Battery and Charger
The Greenworks 80V 10 inch Cultivator (Buy Online) is the best rototiller under $500. It features a 10-inch tilling width and 5-inch tilling depth, and it has an 80-Volt Motor that rivals the power and torque of a gas motor, so it's perfect for heavy-duty jobs.
This rototiller is great because it's one of the most powerful battery-powered tillers on the market – and no cords means no hassles! And if you need a tiller with plenty of run-time then the 2Ah battery provides up to 40 minutes on a single charge. And when the battery runs low just pop it in the 30-minute rapid charger and you'll be on your way again in no time.
With this machine, there's nothing stopping you from getting started on your gardening project today!
The Greenworks 80V 10 inch Cultivator comes with a 4-year warranty on the tool as well as a 2-year warranty on the battery. That means that this tiller will last through years of hard work in your yard without breaking down or giving out before its time.
Snapper XD 82V MAX Cordless Electric Cultivator
The Snapper XD 82V MAX Cordless Electric Cultivator (Buy Online) is one of the best battery-powered rototillers under $500. It's driven by a brushless motor that provides 800 watts of tilling power, so it can handle any job. Plus, it has removable tines and an adjustable tilling width, which lets you work in tight spaces or large areas around your yard.
The Snapper XD 82V MAX Cordless Electric Cultivator is the perfect tool for any gardener. This powerful machine can take on tough jobs with ease and it's easy to use, too. It features an adjustable tilling width from 10-inches to 5.25-inches so you can tackle small or large gardens with ease. It also has removable 8-inch wheels that make transport a breeze, and it's very compact so it won't take up a lot of space in your shed or garage.
Plus, you won't have to worry about gas fumes, maintenance costs, or getting dirty when using this electric cultivator. With just one charge of its battery, this cordless machine will run for up to 30 minutes at full power using a 2 amp hour battery, which is more than enough time for most people's needs. However, if you need more power you can get a 5Ah battery that will give you over an hour of runtime.
Earthwise TC70040 11-Inch 40-Volt Lithium-Ion Cordless Electric Tiller/Cultivator
The Earthwise TC70040 11-Inch 40-Volt Tiller Cultivator (Buy Online) is the perfect tool for anyone who loves to garden. It's lightweight, easy to transport, and can be used in any size yard.
This tiller cultivator will make your life easier by turning over soil in just minutes with its 4 durable steel tines that cut through dirt up to 8 inches deep, and it has an 11-inch cutting width so it can cover more ground than most other tillers on the market.
This rototiller is also easy to transport because it comes with built-in flip-down rear wheels that will allow you to move the machine around without having to pick it up and carry it around your yard
Plus, you won't have to worry about running out of battery power ever again because this cordless electric motor runs off of a lithium-ion battery that lasts up to 1 hour per charge. And with no cords or gas engines, you don't need to worry about filling it up with fuel or disturbing the whole neighborhood when you're tilling your garden.
Earthquake 12802 MC440 Mini Cultivator with 40cc 4-Cycle Viper Engine
The Earthquake MC440 Mini Cultivator (Buy Online) is the best low-cost gas-powered rototiller on the market. It's easy to use, and it has a 40cc 4-cycle Viper engine that can be used with unleaded gas. With durable steel tines, an 8″ tilling depth, and a 6-10″ tilling width, it'll have your garden looking great in no time. The Earthquake MC440 Mini Cultivator can also be fitted with accessories like an edger kit or dethatcher kit so you can use this machine for all your lawn care needs. Plus, this rototiller is backed by a full 5-year warranty.
STIHL Yard Boss 9 in. 27 cc Cultivator
The STIHL Yard Boss 9 in. Cultivator (Buy Online) is a versatile tool for homeowners who want to start a garden without breaking the bank. When it comes to cultivating gardens, flower beds, or lawns, you need all the help that you can get. A lot of people opt for renting tillers from local stores because they think they don't have enough money to buy one themselves. But with STIHL's Yard Boss Tiller, you can get a powerful electric rototiller for under $500
This cultivator is perfect for mixing up soil and breaking apart weeds before starting your garden or flower bed. With its nine-inch tines and powerful motor, this cultivator will make quick work of any hard-packed dirt or weeds, so your plants will have more room to grow healthy roots.
Plus, the STIHL Yard Boss Tiller also easily converts into a wide assortment of yard tools using any one of its eight optional attachments – trimmer, edger, dethatcher, lawn aerator, and more
Cub Cadet 24 in. 208 cc Front-Tine Forward-Rotating Gas Tiller
The Cub Cadet 24 in. 208 cc Front-Tine Forward-Rotating Gas Tiller (Buy Online) is the perfect tool to prepare any size garden. With 12-inch steel tines, this machine can tackle any soil type and will leave your garden looking like it was just plowed by a tractor. Plus, with its forward rotating tines, this machine makes quick work of even the toughest dirt clods that have been leftover from winter storms. It's also got an adjustable 13", 22", or 24″ tilling width, so it can till in tight spots or quickly turn over a large garden.
This tiller offers the same quality as larger tillers that cost hundreds more. Plus, it's easy to start with its electric ignition system and it features a durable 208cc OHV engine from Cub Cadet. Its steel tines are strong enough to work through hard soil without bending or breaking, which makes it perfect for cultivating large areas of land quickly.
Whether you're just getting started on your first garden or adding new plants this season, this affordable gas tiller is ready to help you get all of your gardening tasks done faster than ever before.
ECHO, Inc. TC-210 9 in. 21.2cc Gas Tiller/Cultivator
The ECHO TC-210 (Buy Online) is the best gas-powered rototiller under $500. It has a 21.2cc high power 2-stroke engine that can till up to 9 inches deep, and it has four 10-tooth steel tines for tough jobs like breaking up hard soil or turning over dense hard-packed clay soils.
This machine also features a worm gear transmission with a 42:1 gear reduction ratio, which means this tiller can power through dense soil without the motor missing a beat. Plus, this model comes with a lifetime warranty on the steel tines, so if anything ever happens to the tines ECHO will replace them free of charge.
TAZZ 35351 Garden Cultivator
The TAZZ 35351 Garden Cultivator (Buy Online) comes equipped with a powerful 33cc 2-cycle engine that provides enough power for any job. This mini cultivator can be used to till even the most stubborn soil and weeds without sacrificing performance or comfort.
If you're looking for a lightweight, easy-to-use piece of equipment that won't break your back when it's time to move it around, then look no further than the TAZZ 35351 Garden Cultivator. Its on-board wheels make transport effortless. While its high-efficiency motor means you don't have to run it at full throttle like some other 2 cycle models out there. Plus, the 3-year limited warranty and helpful support team based in the USA make this one of the best low-cost rototillers on the market.
Mantis 7940 4-Cycle Gas Powered Cultivator
The Mantis 7940 4-Cycle Gas Powered Cultivator (Buy Online) is the perfect solution if you want to quickly start your spring garden. It's a gas-powered rototiller that can tackle any job, no matter how deep or hard the soil is in your yard. And with its lightweight design weighing in at just 24 pounds, you won't have to worry about lugging around a heavy machine all day long.
The Mantis 7940 4-cycle gas-powered cultivator is a great tool for small to medium-sized gardens. This powerful little machine will till and cultivate your entire garden in no time at all since the tines spin at up to 240 rpm, which means that the tines on this unit can reach higher speeds than most of the other comparably priced tillers currently on the market.
If you need a lightweight powerful tiller that runs on unleaded gas then the Mantis Tiller Cultivator is definitely one of the best gas-powered garden tillers for anyone on a budget.
Troy-Bilt 9 in. 6.5 Amp Corded Electric Tiller/Cultivator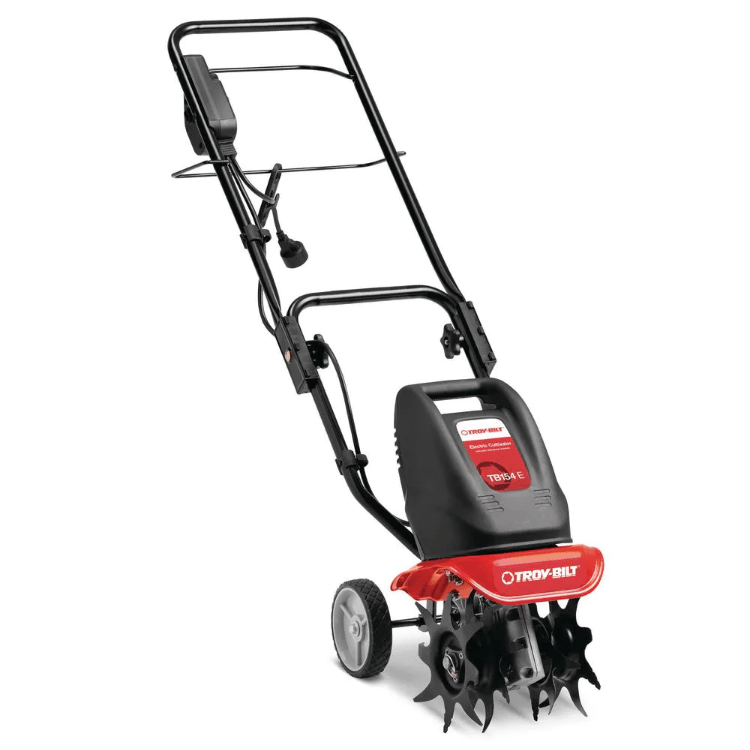 The Troy-Bilt TB154E 6.5 Amp Electric Garden Cultivator (Buy Online) is a great tool for preparing a small garden. This cultivator features an electric motor that provides the power you need to get your garden ready for spring planting or autumn clean up quickly and easily, without having to worry about gas or batteries.
The tines are made of high-quality steel so they can handle tough soil conditions with ease, while the adjustable depth control allows you to cultivate shallow areas like flower beds as well as deeper ones like vegetable gardens. Also, with its compact size, this cultivator easily fits into tight spaces when tilling between rows of plants
The lightweight design of this tiller makes it easy to transport from one area of your yard to another, and this cultivator even comes with a built-in cord minder that keeps your extension cord in check during use so you won't have any cord-related accidents with this electric tiller.
Types of Rototillers
There are many types of rototillers and the one you choose will depend on your needs. If you have a small garden with only a few plants, then an electric rototiller is probably all that you need. Electric models are lightweight, easy to use, and low maintenance but they do not work well in wet soil or rocky terrain.
If you need something for larger jobs like turning over large areas of land or breaking up tough ground, then a gas-powered model may be more suitable for your needs. Gas models run off either gasoline or diesel fuel and can handle both wet soils as well as rocky terrain with ease, but they require regular maintenance such as oil changes and filter checks to keep them running smoothly.
Gas Powered Rototillers
Gas-powered rototillers are a popular option for homeowners because they save time, and they can handle the toughest jobs. They can be used to aerate your soil, break up clumps of dirt, and turn over the top layer of earth all in one step. They are highly efficient at turning over soil since they have high torque motors, which enable them to power through even the densest soil types without ever getting bogged down.
Battery Powered Rototillers
It's not always possible to use a gas-powered rototiller in your yard, but that doesn't mean you have to be stuck tilling your garden by hand. There are many benefits and drawbacks of battery-powered rototillers, and some people swear by them, while others claim they are too underpowered for dense or rocky soil.
However in recent years with the advent of powerful Lithium-Ion batteries, these types of rototillers have started to rival the performance of gas-powered models. Plus, battery-powered tillers are also easier to maintain and they are much quieter and better for the environment.
Front Tine
Front tine rototillers are an excellent choice for homeowners who have small gardens. The front tines give the machine the ability to dig shallow trenches, or to create planting furrows. They are also easier to turn due to their compact design and balanced center of gravity, which is why they're ideal for smaller garden spaces.
Rear Tine
Rear tine rototillers, on the other hand, are best suited for larger yards where you need more power or if you want a deeper cut in your soil. These machines drive their thicker counter-rotating blades into the soil with more force, so they can handle breaking new ground no matter what type of soil you're working with (gravel, clay, sandy loam)
Rototillers Gas vs Electric
There are a few important differences between gas and electric rototillers. One of the first things people often notice is that gas models are louder than their electric counterparts, not to mention they require more maintenance. Gas models also tend to be heavier and more expensive than comparable electric units, but there's no denying the power advantage – one pass with a gas model can move dirt that takes three passes with some electric models
Conclusion
Thank you for reading our post! We hope that we've helped you find the perfect rototiller to get your garden started. If not, feel free to contact us and let us know what type of tiller you're interested in getting for your garden. We're always happy to help out shoppers who want more information on gardening tools and supplies.