Cherry trees should be planted in light sandy soil that has moderate fertility and good drainage. You should avoid planting cherry trees in densely compacted soil since this can lead to root rot and other fungal diseases. If you don't have the best soil for cherry trees you can add compost or manure to help improve the soil.
What Type of Soil is Best for a Cherry Tree?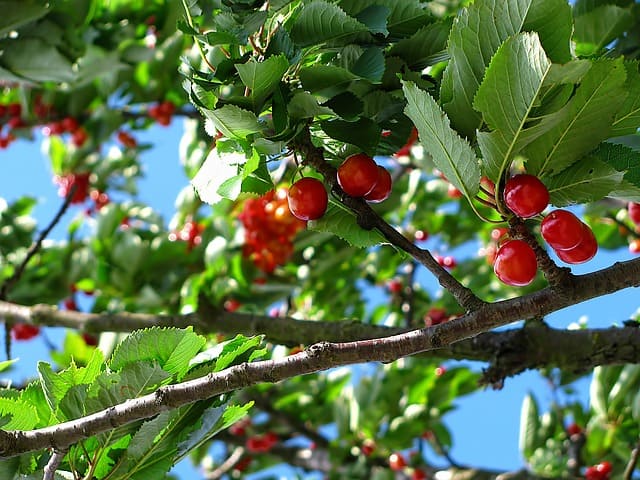 Cherry trees grow best in fertile sandy soil that has good drainage. Before you plant a cherry tree you should check how well the soil drains, and you should also test the pH of the soil. This will give you a good idea of what amendments you need to add to the soil before you plant your new cherry tree.
Cherry Tree Soil pH
Sweet and sour cherry trees need similar soil, but sweet cherry trees tend to do better in soil with a higher pH and better drainage. Sweet cherry trees will do best in soil that drains quickly and has a pH between 6.3 and 7.2. While sour cherry trees can handle denser soils that have a pH between 6.0 and 7.0.
Cherry Tree Clay Soil
If you live in an area that has heavy clay soil you'll need to improve its drainage and friability. You can do this by adding compost and Peat Moss/Coir to improve the structure of the soil.
The compost will help break the thick clay up and it will increase the soils overall fertility. First, you'll need to dig the hole for your cherry tree and thoroughly mix the compost into the soil. In most cases, one bag of compost will do, but if you have very heavy soil you might need to add more compost to the soil.
You can also add peat moss or coir to help improve drainage in heavy clay soil. You should be careful if you plan on using peat moss since it will lower the pH of your soil, although that might be useful if you have very alkaline soil. If your soil pH is already acidic, to begin with then you should use Coir instead since it won't alter the pH of the soil.
Best Soil for Cherry Trees
Cherry Tree Soil Amendments
Michigan Peat Garden Magic Top Soil (Buy Online) is great for loosening heavy clay soil. This premium grade topsoil comes in a 40-pound bag, and it' is made from a blend of reed sedge, peat, and sand.
PEARL VALLEY ORGANIX Coop Poop (Buy Online) is an all natural soil amendment that's made from chicken manure. It is an OMRI listed organic fertilizer that has no additives or fillers. You can get this chicken manure in a 40-pound bag and it even comes with free shipping.
Wiggle Worm Soil Builder Earthworm Castings (Buy Online) are a great soil amendment to help improve your natural topsoil. You can get these pure worm castings in bags that range from 4.5-30 pounds, and they are all delivered with free shipping.
These worm castings are 100% organic, and they contain no additional fillers or additives.
Worm castings are a rich source of trace minerals, and they also have a crumbly texture that will help loosen compacted soil.
Hydrofarm Grow!T Premium Coco Coir (Buy Online) is a soil additive made from all natural coconut husk fibers. You can use coir to loosen heavy compacted soils without altering the pH. That makes it a great alternative to peat moss if you already have acidic soil.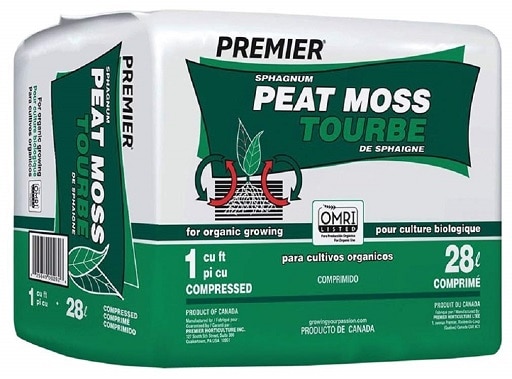 Premier Horticulture Pro Moss (Buy Online) is great if you have to loosen heavy alkaline soil. This peat moss is organic and it comes in a 1 cubic foot package.
Peat moss will help improve drainage and moisture retention, and it will increase the amount of organic carbon in the soil. It also can help reduce soil pH, which can be helpful if your soil pH is greater than 7.0.
Cherry Tree Fertilizer
Dr. Earth Natural Wonder Fruit Tree Fertilizer (Buy Online) takes all the guesswork out of fertilizing a cherry tree. This fertilizer is specially made for fruit trees, and it is GMO-free and certified organic. It comes in 1-12 pound bags and you can have it delivered right to your door with free shipping.
This fertilizer has a 5-5-2 NPK ratio and it contains a blend of humic acids and trace minerals. It also contains beneficial bacteria and fungus to help improve nutrient absorption and uptake. And all of the ingredients are derived from 100% certified organic sources.
Jobe's Organics Fruit & Citrus Fertilizer (Buy Online) is perfect if you have a new or established fruit tree in your garden. This fertilizer comes in 1.5-16 pound bags and you can have it delivered with free shipping.