Mounting orchids on wood can be a fun project, but it can be a bit of a challenge especially if it's your first time mounting an orchid. That's why we put together these easy to follow instructions to make mounting orchids on wood a little easier.
Whether your mounting Phalaenopsis on Driftwood or you're mounting orchids on cork bark this guide will walk you through all the steps you need to follow in order to mount an orchid on any type of wood.
Mounting Orchids on Wood
Today we're going to be mounting orchids on wood using a large Phalaenopsis Orchid (Buy Online), and we'll use a different technique of mounting phalaenopsis orchids using superglue instead of attaching it with monofilament.
Mounting Phalaenopsis Orchids
Sterilize Tools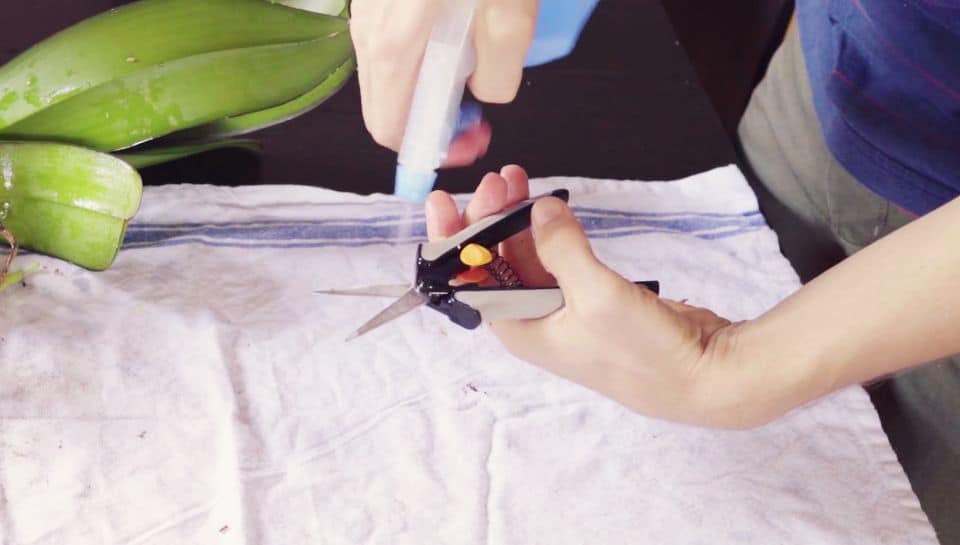 First, begin by sterilizing all of your tools with isopropyl alcohol. If you think it's necessary you can also sterilize the wood in an oven set at 300 degrees for three hours. You'll also want to brush off any loose wood chips and debris from the surface of the wood to ensure the orchid stays in place once it's mounted.
Soak Sphagnum
Moss
Prepare the new substrate by soaking a handful of fresh Sphagnum Moss (Buy Online) in a bowl of warm water.
Clean Orchid Roots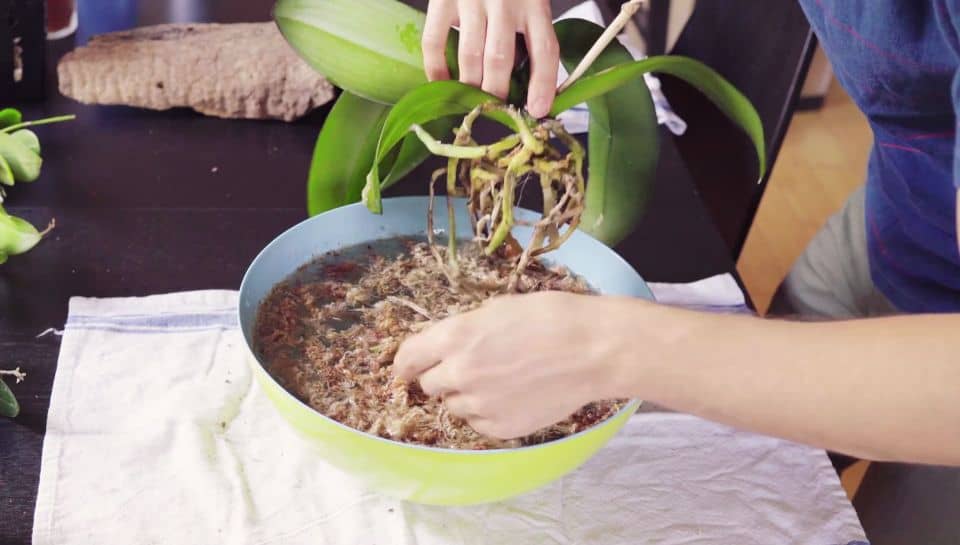 In another bowl of fresh room temperature water gently remove the substrate from the orchid's roots being careful not to damage any living tissue. You can save the substrate for future reuse as long as you sterilize it in either an oven as we did with the wood or in a bath of hydrogen peroxide and water.
Trim Dead Roots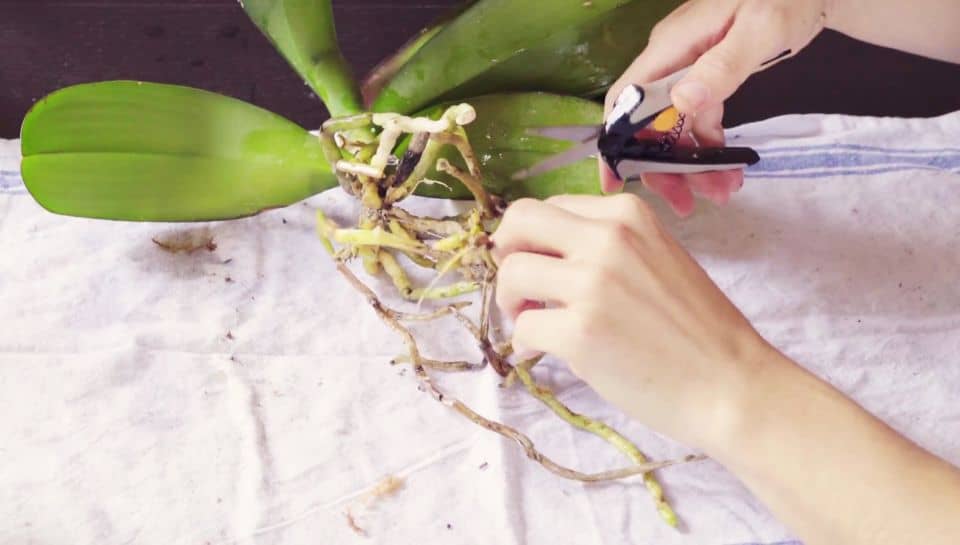 Trim any dead or sick roots, leaves, and stems from the plant. Be careful not to damage any living tissue while cutting off the dead roots. You can identify living tissue by its firmness, and it's green color.
Orchid Mounting Ideas – Positioning Orchids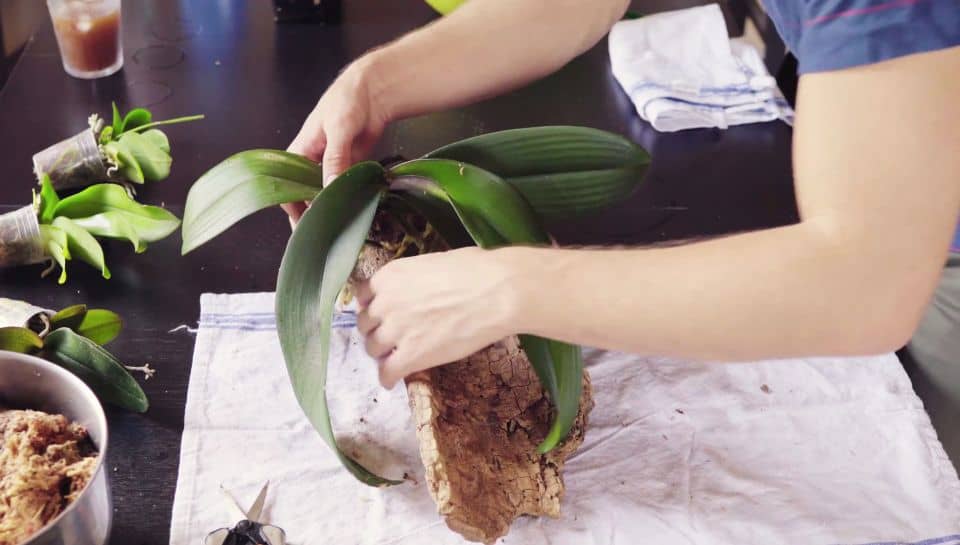 Before mounting phalaenopsis orchids you should assess how you want the plant to be positioned on the wood. Always hold orchids by the sturdy trunk rather than the leaves or roots to avoid damaging the plant. Keep in mind Phalaenopsis orchids naturally grow downward when attached to trees with their roots clinging to the bark.
Prepare Wood Surface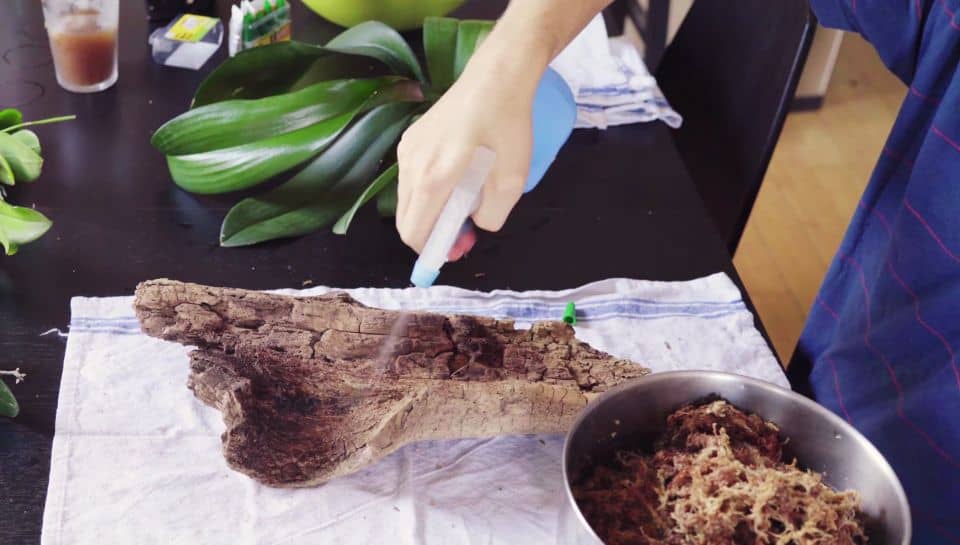 Use super glue or Krazy Glue to shore up any loose pieces of wood. Then prepare the section of wood you intend to mount the orchid. You'll want to spray a mix of water and isopropyl alcohol to both cleanse the area and to get the surface ready for the glue.
Layer Sphagnum Moss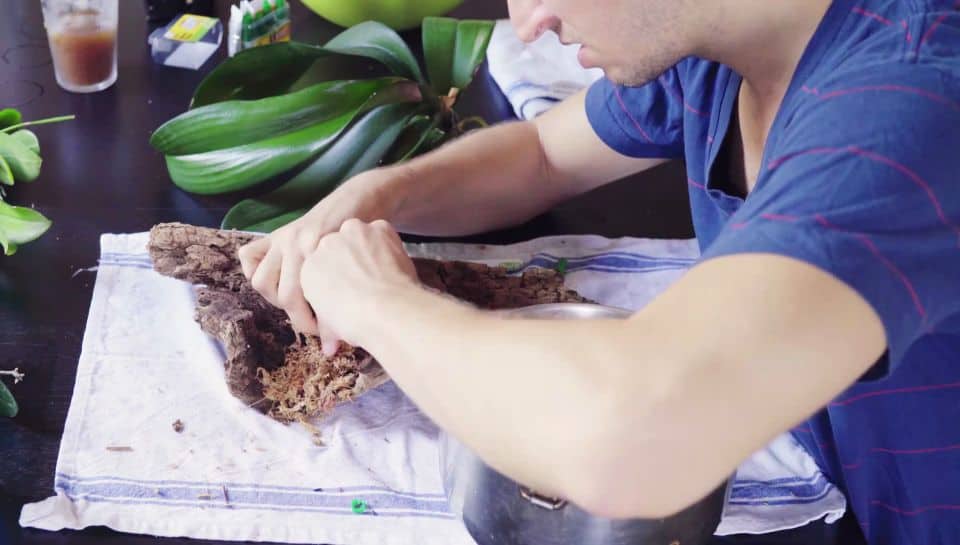 Starting with small clumps of Sphagnum moss put drops of glue on the wood, and then carefully press the moss in place to form a bed of moss for the orchid. Be careful not to get the glue on your hands as it will bond very quickly.
Mounting the Orchid on Wood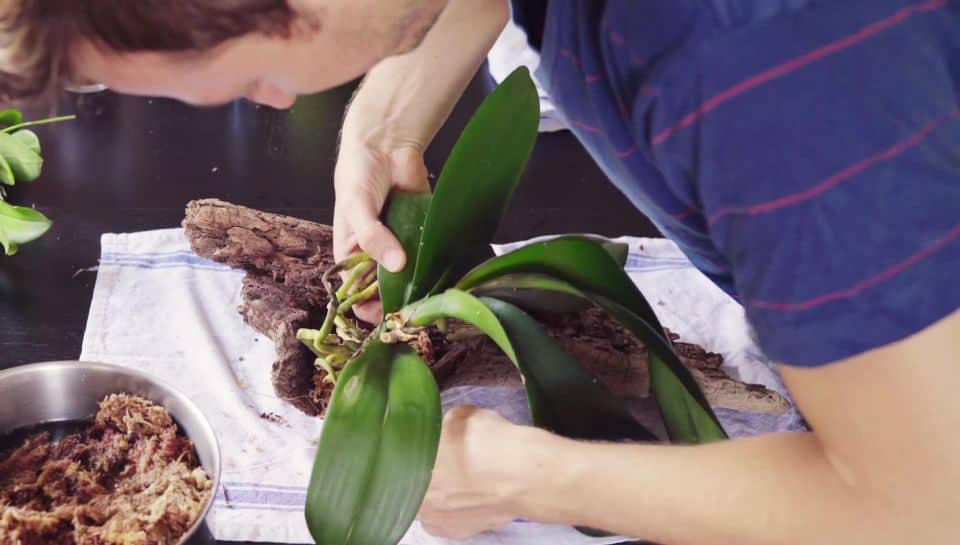 Take the plant and position it carefully where you want it to be mounted while carefully aligning the roots to spread across the surface of the wood. Then add generous dollops of glue to the roots where the plant will touch the wood.
Glue The Roots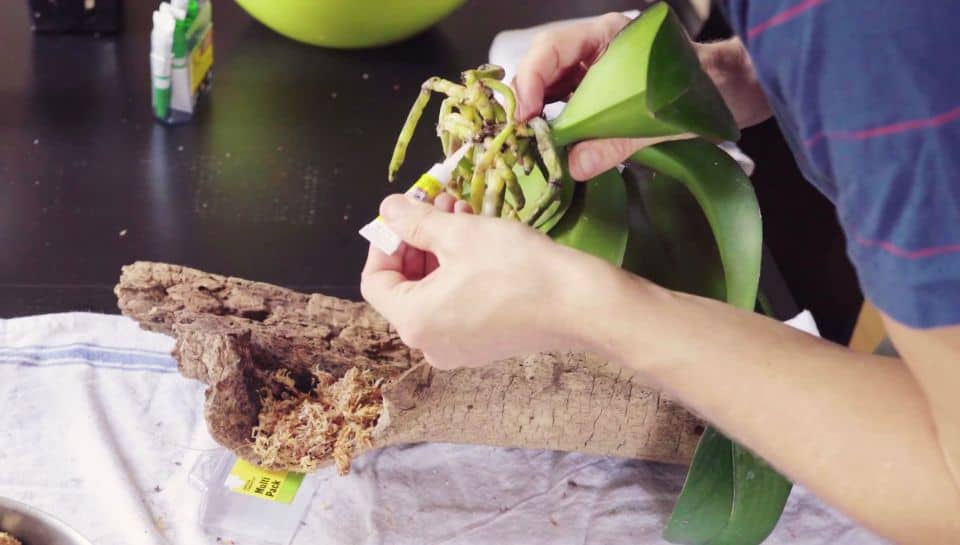 Focus first on the sturdiest roots and stem at the top of the plant pressing them into the wood to create the first weight-bearing bond with the wood mount. Then continue to add bits of glue to the other parts of the plant and press the roots onto the wood without damaging the orchid. The more points of secure contact the better, but you won't need to use that much glue to secure an orchid.
Super Glue
Super Glue (Buy Online) is naturally inert and will not damage or burn your plant. Eventually, your orchid's roots will grow into the wood and hold itself there without the glue. But the glue makes it much easier especially if this is your first time mounting an orchid on wood.
Apply More Sphagnum Moss
Grab some fresh Sphagnum moss and began gluing larger chunks around all of the root structure. Try to maintain a fairly natural look that blends with the flow of the wood and the plant. Make sure you use enough Moss to keep the plant healthy. If your orchid quickly gets dehydrated you might need to add more moss later to ensure it always has enough water.
Clean Up
You can use compressed air to brush away loose moss, and then thoroughly soak the Mount and moss with a spray bottle filled with water.
Hanging Orchids on Walls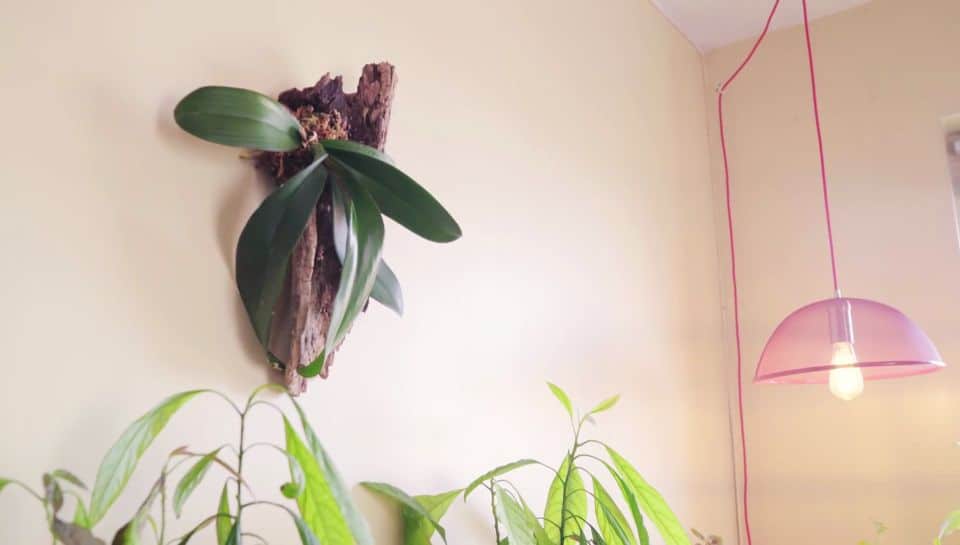 If the wood you used is soft enough you can easily hand screw some small hooks into the back of the wood. Then you can attach some picture wire to the hooks so you can hang your freshly mounted orchid on your wall.
Read More: Best Fertilizer for Phalaenopsis Orchids
Buy Live Orchids
Micky's Minis Mini Orchids (Buy Online) are small orchids that are the best orchids for mounting. This colorful set of orchid comes with 3 mini orchids each with a different color flower.
Mini orchids are much easier to mount onto a piece of wood than some of the larger orchids. You can also mount multiple mini orchids on a single piece of wood for a more vibrant display of colorful flowers.
The Live Orchid Plants Collection (Buy Online) includes a mix of 5 different species of orchid. This 5 pack of orchids include Cattleya, Oncidium, Dendrobium, Vanda, and Phalaenopsis orchids. This combo pack is definitely a great way to save some money and try your hand at growing different types of orchids.
Just Add Ice Mini Orchid (Buy Online) is a beautiful low maintenance orchid with long-lasting flowers. It comes in a decorative pot, and you can get Just Add Ice Mini Orchids with subtle white flowers with red accents, or you can even get them with bright pink and purple flowers.
Large Orchid Plants for Sale
Just Add Ice Orchid Easy Care Orchids (Buy Online) are stunning plants that have 1-inch to 30-inch flower spikes adorned with colorful flowers. You can also get this orchid with either coral, pink, purple, or white flowers. And they either come in a 5-inch white ceramic pot, or you can get them in a custom decorative rose gold pot for an added pop of color.
The DecoBlooms Living Aqua Orchid Plant (Buy Online) is a naturally white orchid that has been infused with dyes to give it a vibrant blue color. This orchid's unique blue color is eye-catching, but just be aware that when the orchid blooms next season the flowers will revert back to their natural white color.
Mounted Orchids for Sale
BLOOMIFY Tree Fern Mounted Orchids (Buy Online) is an easy way to get an orchid that's already mounted on wood. This orchid is mounted on a 3" x 3" piece of wood with sphagnum moss.
The Haraella retrocalla Orchid mounted on this natural Tree Fern piece of wood is a miniature orchid. The orchid is shipped at a mature flowering size, and it will bloom shortly after it arrives.
BLOOMIFY Wood Mounted Orchid (Buy Online) is a delicate orchid mounted on a 3" x 3" piece of light-colored wood. The Cattleya Cernua Orchid likes warm temperatures, along with bright light and high humidity. Cattleya Cernua has spoon-shaped leaves, and it produces 3 to 4 red-orange flowers with yellow tips.