What Is The Best Mulch To Prevent Weeds? The best mulch to prevent weeds is one that will not decompose and break down quickly. This type of mulch will be effective for many years, which means you won't have to worry about weed growth in the future. There are several types of mulch out there, so it's important to do your research beforehand.
This post will discuss the best mulch for weed control, and how to keep your garden looking neat and tidy year-round.

Best Mulch for Weed Control
Best Mulch for Weed Control
Preen 95456134 Mulch Plus Weed Barrier, Russet Red, 2 Cu. Ft.
Preen Mulch Plus Weed Barrier (Buy Online) is the best mulch for weed control. It contains herbicides that will kill 100 types of weeds and prevent them from growing for up to 6 months. This mulch also has been treated with a color that lasts all year, so it won't fade even when it's exposed to the elements all season.
A single bag of Preen Mulch Plus Weed Barrier covers 12 sq ft at a depth of 3-inches, which means a single bag will cover a small garden bed quite easily.
However, you don't want to use this mulch around edible plants because it contains the herbicides Trifluralin and Isoxaben, but if you're looking for the best way to keep weeds at bay in your ornamental flower bed then look no further than Preen Mulch Plus Weed Barrier.
NuPlay Rubber Nugget Landscaping Mulch Ground Cover Weed Barrier
NuPlay Rubber Mulch (Buy Online) can help you get rid of weeds in your yard without using chemicals. It's made from recycled tires and won't break down or decay over time, and it will last for 12 years or more.
NuPlay rubber mulch is the best alternative to traditional mulch because it's made from recycled tires that will not blow away in high winds, unlike other natural mulches like wood chips or pine bark nuggets.
Rubber mulch also has superior light blocking properties making it more effective at preventing weeds than regular ground coverings.
Plus, this long-lasting rubber nugget landscaping mulch is available in five colors including black, brown, red, green, and blue.
MIGHTY109 Raging Red Colored Wood Chip Mulch
MIGHTY109 Raging Red Colored Wood Chips (Buy Online) help you create a beautiful landscape that's weed-free while saving money on chemicals. These wood chips contain no herbicides or pesticides. You can use them anywhere in your landscape where weeds are an issue – around plants, shrubs, ground cover, and natural elements in your landscape.
They also help maintain soil temperature and moisture levels to promote healthy plant growth as well as provide a great ground cover for new plants to establish themselves quickly after planting.
Mighty109 wood chips are colored with a beautiful bold red color that creates a nice contrast around the plants and other elements of your landscaping design. Plus, the color will not fade over time as many dyed mulch products do.
They also come in a 42-Quart bag which makes it easy for you to get enough for all your landscaping projects at one time without having to make multiple trips back and forth to your local garden center.
Timberline Brown Hardwood Mulch
Timberline Brown Hardwood Mulch (Buy Online) is made from 100% natural hardwood materials that are chipped into small pieces by hand in our own production facilities to ensure maximum freshness and quality. Our brown color blends well with any landscape design while providing excellent weed control qualities. We offer bulk bags as well as a convenient 2 cu ft bag for easy handling when applied around trees, shrubs, flower beds, or other landscaping projects – even in tight spaces.
Timberline Black Mulch
Timberline Black Mulch (Buy Online) is the perfect choice for homeowners who want their yard to look great all year long without having to worry about weeds and other pests taking over in spring or fall. This black mulch looks fantastic in any yard, especially when paired with flowers and other plants that pop against its dark color.
If you're looking for a 100% natural product that will keep your soil warm in the winter and cool in summer while still providing weed control, then Timberline Black Mulch will definitely get the job done, and it's even available for local pickup in most areas.
Timberline Brown Cedar Mulch
Timberline Brown Cedar Mulch (Buy Online) will help you get rid of those pesky weeds without hurting your plants or adding chemicals to your yard. It helps prevent the growth of a wide range of weeds like crabgrass, goosegrass, dandelions, and more. Plus, this cedar mulch also contains aromatic oils that deter insects and other pests like rodents and gophers, which makes it suitable for use around a house's foundation.
Homer Red Cedar Mulch
Homer Industries Cedar Mulch (Buy Online) is made from shredded red cedar wood chips that are naturally resistant to insects such as termites, ants, beetles, grubs, etc., making this mulch ideal for use in flower beds near trees where pests might be lurking at ground level waiting to attack your prized rose bushes or shrubs.
Polypropylene Single Net Straw Erosion Control Blanket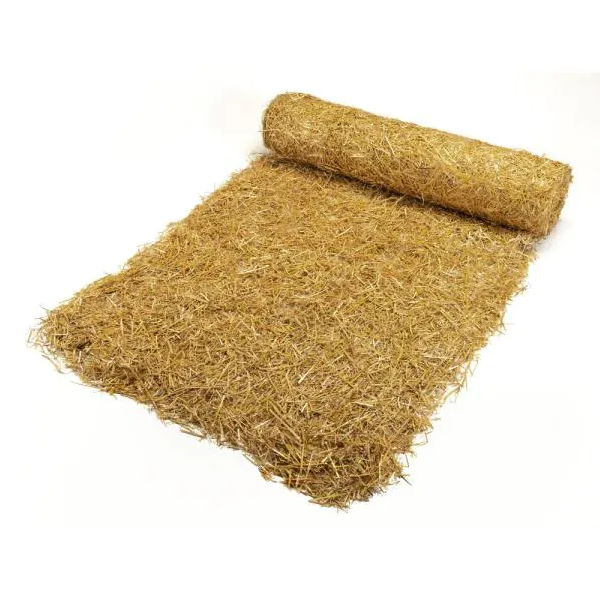 This Polypropylene Single Net Straw Erosion Control Blanket (Buy Online) will help you protect your land from erosion by holding the soil together, and keeping it in place while vegetation takes root and grows into the ground below. It's also great at preventing weeds from growing beneath it so that they don't sprout through since no light gets through. Best of all, you can use this mulch as an alternative to traditional landscape fabrics or plastic sheeting when trying to stop erosion on a steep slope.
At 4 ft. x 135 ft., each blanket provides 60 sq yd of weed protection for up to 12 months
Plow & Hearth 55632 Recycled Rubber Permanent Garden Mulch Border
Plow & Hearth's Recycled Rubber Permanent Garden Mulch Border (Buy Online) is made from 100% recycled rubber that will never break down or need replacing. This border will help keep weeds at bay while allowing air and water through so your plants get all they need to grow healthy and strong.
You'll love how easy this weed-blocker is to install. The cut-to-fit pieces are scatterproof – just place them where you want them without worrying about moving them around again later on…they stay right where you put them until you decide otherwise.
Plow & Hearth Recycled Rubber Border
Overall, Plow & Hearth's recycled rubber border is one of the best eco-friendly borders that look like real wood mulch, without all of the back-breaking work needed to install it.
Greendale – 3 Pack of Premium 4 ft x 10 ft Sheets (Heavy Duty 5 oz Fabric) – Landscape Weed Barrier
Greendale Landscape Weed Barrier (Buy Online) will keep your yard looking beautiful and weed-free all year long. This weed barrier fabric is made of heavy-duty, durable material that's UV stabilized so it won't break down in the sun or rip when you're working with it. It also lets air and water through to help plants grow better, which means you can use less water.
We know how frustrating weeds can be – they pop up out of nowhere and make your yard look terrible. That's why Greendale offers a 1-Year guarantee on this product so if anything goes wrong within one year of purchase, just contact them for a replacement.
HOOPLE 4 X 50 ft Weed Barrier Fabric, PP Material, Premium Garden Landscape Fabric for Flower Bed, Yard, Heavy Duty Ground Cover
HOOPLE Weed Barrier Fabric (Buy Online) is made using the highest quality materials available to ensure it will stop weeds from sprouting through rubber or wood mulch. The thick material blocks sunlight while still allowing water and air to pass through so you won't have issues with poor plant growth.
This weed control fabric comes in 4′ x 50′ rolls, making it easy to cut down into smaller sections for projects around the house like planting trees or shrubs, covering garden beds before winter sets in, or creating edging along walkways and flower beds where grass doesn't grow.
Mulch Thickness to Prevent Weeds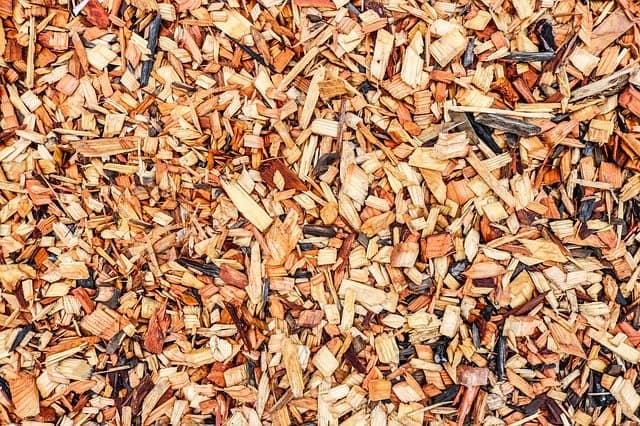 Mulch needs to be a minimum of 3 inches deep to prevent weeds. Generally, thick layers of mulch suppress weed growth by blocking sunlight, and by creating a physical barrier near the surface of the soil where weed seeds are trying to germinate.
What Is The Best Thing To Put Under Mulch To Prevent Weeds
Landscape Weed Barrier fabric is the best thing to put under mulch. It prevents weed growth yet still allows water and air to pass through. It also provides a physical barrier that protects your landscape from pests like squirrels, rabbits, birds, etc.
Woven landscape weed barrier can be used for many other applications such as erosion control on slopes, and it can be pre-fabricated into liners that help prevent weeds from emerging around foundations or in newly planted landscapes.
Types of Mulch
Wood Mulch
Wood mulch is a natural, organic product that can be used to prevent weeds. It helps soil retain moisture and it's generally weed-free. Also, if you have pets or children, wood mulch is generally considered to be safe. Wood mulch also provides an attractive appearance for any type of landscape.
Rubber Mulch
Rubber mulch has been gaining popularity in gardens and landscapes. Rubber mulch is made from recycled tires that are shredded down to very small pieces and that are dyed to look like wood chips. It's a great solution for people who want an environmentally-friendly option to traditional bark mulches because it doesn't need as much maintenance
Straw Mulch
Straw mulch is a great way to add organic matter and nutrients back into your soil. It's also very cost-effective since straw can be purchased very cheaply at local feed stores. However, straw mulch isn't as effective as wood mulch at suppressing weeds unless you apply a very thick densely packed layer.
Leaf Mulch
Mulching your garden with leaves can be a great way to use up free leaf piles as well as offer some natural benefits for your plants. It also helps reduce the amount of water needed in the garden because it keeps moisture from evaporating.
Leaf mulch is also a good material for breaking down organic matter and adding nutrients back into the soil. However, leaves are not an ideal long-term mulch since they break down quickly, but they do work well when used with other mulch materials.
Read More: Leaves as Mulch Good or Bad – Leaf Mulch Tips
What Is The Best Mulch To Prevent Weeds
Does bark mulch stop weeds?
Yes, bark mulch does stop weeds to a degree. However, you need to apply at least a 3-inch layer for it to work satisfactorily. This is because bark mulch needs to be layered quite deep, so that weed seeds won't be able to find any cracks etc., through which they might grow.
The rule of thumb for any type of mulch is always erring on the side of adding too much and not too little since that's where you'll have your best chance for success.
Does rubber mulch stop weeds?
Yes, rubber mulch does stop weeds. It's also maintenance-free, low cost, and eco-friendly. Another advantage of rubber mulch is its longevity the material has been shown to last decades without breaking down or needing to be replaced every season.
Does leaf mulch stop weeds?
Leaf mulch can inhibit weeds for a short period of time, but it doesn't provide long-term weed protection.
Does cedar mulch stop weeds?
Yes, cedar mulch stops weeds, and it also repels insects naturally. It has been shown to have some natural pest-repelling benefits because it contains chemicals that ward off major insect pests, such as termites and ants. It also releases volatile aromatic compounds which repel some larger pests like rodents.
Does straw mulch stop weeds?
Straw mulch is not an ideal way to stop weeds. It stops new weeds, but older plants can push them away and find room to grow. The thicker the layer you place, the more effective it will be in stopping new weed growth- that said, thick straw layers might cause other problems, so straw mulch should only be used when necessary on plants like strawberries.
Does mulch stop water?
Mulch by nature is a porous material, so it does not stop water from passing through to the underlying soil. However, organic mulch is good at absorbing and retaining water so more irrigation might be necessary to saturate the mulch before it reaches your plant's roots.
Conclusion
The best mulch for weed control is one that deters weeds from growing in the first place. This can be achieved by using a material that either kills or suppresses weeds like wood chips, gravel, rubber mulch, and pine needles.
If you are looking to reduce your need for herbicide use this season, consider adding at least 3 inches of mulch over the soil around plantings. This will not only help with weed prevention but also increase moisture retention as well as keep roots cool during hot weather conditions.
We hope these tips have helped you identify what type of mulch may work best for your situation, and if you have any other garden-related issues feel free to reach out we're happy to answer any questions.