Choosing the best mulch for asparagus will ensure your plants are protected from hard frosts and weeds. Mulch is also a great way of renewing asparagus beds as it slowly breaks down and releases nutrients into the soil.
Best Mulch for Asparagus
Best Mulch for Asparagus
MULCHEX Black Cedar Mulch (Buy Online) is the best mulch for asparagus growing in an ornamental or raised bed garden. This color-enhanced mulch blends in nicely in any landscape, and it looks great around the foundation of a home. Best of all cedar mulch will stop weeds from taking over your asparagus beds, and cedar mulch also has insect repellent properties.
MULCHEX Natural Cedar Mulch (Buy Online) is an excellent mulch for asparagus since it's more effective than regular pine shavings. This natural cedar mulch will help insulate the soil and limit weed growth in the spring. In addition, cedar mulch also acts as a natural insect repellent, which can help keep cutworms, asparagus miners, and asparagus beetles at bay.
Premium Pine Needle Mulch (Buy Online) is the best mulch for asparagus if you live in an area that experiences very cold winters. Pine needle mulch provides superior insulation in cold areas since it traps air pockets in between the needles.
The added insulation that pine needles offer can help protect asparagus crowns from hard frosts that can damage their root system. Also, if you live in an area that has alkaline soil pine needles can help lower the pH of the soil as the needles decay.
EZ-Straw Mulch (Buy Online) is a biodegradable mulch that's a great choice for mulching asparagus beds. Straw mulch works well in colder areas since it has superior insulative properties. It also won't affect soil pH when it decays, which is helpful if you already have acidic soil in your area.
This straw mulch has been treated with an all-natural bonding agent (Tackifier) that holds the straw pieces together. That means unlike regular straw mulch EZ-Straw won't wash out in a rain or blow away in the wind.
Natural Wheat Straw Grass Mulch (Buy Online) is another asparagus mulch alternative that you can use on an asparagus bed. Wheat mulch is similar to pine needles since it can protect asparagus crowns from a hard freeze. However, it won't alter or affect the pH of your soil when it decays, and it's easy to compost when you're done with it in the late spring.
Scotts Color Enhanced Mulch (Buy Online) is a more affordable alternative to cedar mulch. This pine mulch will protect asparagus plants from light frosts and weeds. However, it doesn't have insect repellent properties like cedar mulch, and pine shavings need to be replaced more often since they decay faster. Scotts Color Enhanced Mulch can also be purchased online and picked up locally at HomeDepot.com
The Longleaf Pine Straw Roll (Buy Online) takes all the hard work out of mulching an asparagus bed. This roll of pine needle straw will cover an area up to 125 square feet. It's also the perfect size for mulching borders or raised garden beds. You can also cut it, or break it up into segments.
The Bosmere Border Protection Edging Weed Mat (Buy Online) is a coco fiber mat that provides superior weed protection. This dense coco fiber mat blocks out light while still letting air and moisture pass through. You can also cut this Coco Coir Weed Mat into any shape if you need to fit it into a tight space. In addition, coco coir won't affect the pH of your soil when it starts to decay.
Artificial Mulch for Asparagus
HOOPLE Garden Weed Barrier (Buy Online) is the best mulch for asparagus if you need to suppress spring weeds. This garden weed barrier comes in a 180-foot roll that's 3-feet wide. The HOOPLE weed barrier has a permeable surface that allows moisture and air to pass through, but it completely blocks out light, which makes it very effective at controlling tough weeds.
International Mulch Company Redwood Ground Cover (Buy Online) is an artificial rubber mulch that looks like redwood shavings. This mulch won't biodegrade like normal mulch, so you won't have to replace it every year.
Rubber mulch also provides good insulation in the winter, and it can help block light from reaching the soil, which can help control weeds.
Living Mulch for Asparagus
White Dutch Clover Seed (Buy Online) makes a great living mulch for an asparagus bed. You can plant white clover seeds in the spring, and they will create a natural ground cover that will help preserve moisture and suppress weeds.
Clover will also die back in the winter and leave a protective layer of dead roots and leaves on the surface of the soil. This layer will help protect the ground from light frosts, and it will also help maintain the structure of the soil over the winter.
White clover is also capable of fixing atmospheric nitrogen, which it will release into the soil when it dies back in the winter. This added nitrogen has the added benefit of acting as a free source of fertilizer for renewing asparagus beds each season
Cedar Mulch Pros and Cons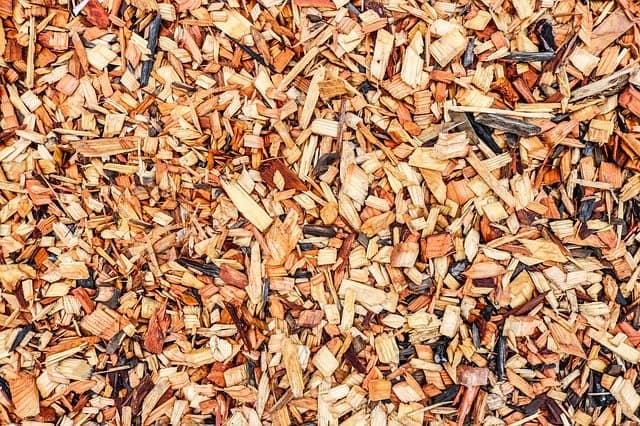 If you plan on using cedar mulch on your asparagus beds you might want to know some of the top cedar mulch pros and cons:
Cedar Mulch Pros
Insulates Soil

Reduces Evaporation

Suppresses Weeds

Repels Insects

Protects Soil Structure

Aromatic

Attractive Color

Slowly Degrades
Cedar Mulch Cons
Strong Smell

Expensive

Alters Soil pH

Repels Beneficial Insects
When To Cut Back Asparagus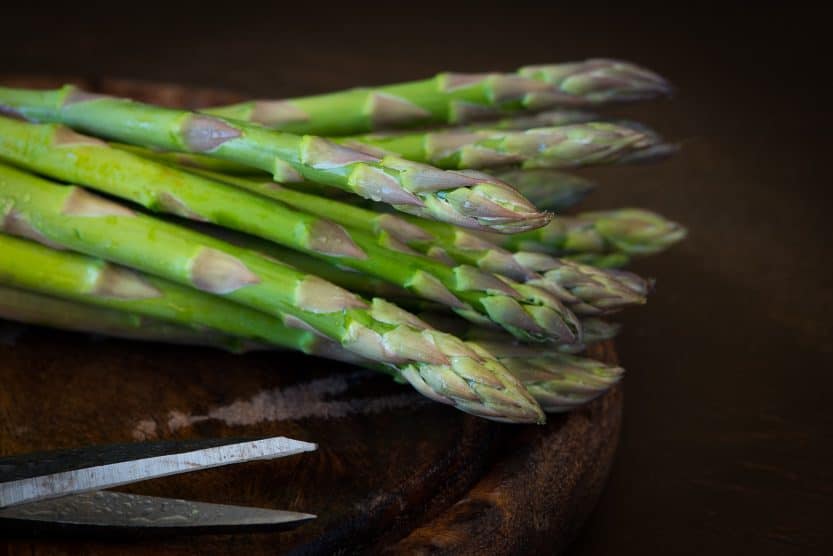 Asparagus should be cut back in late fall or early winter when all the foliage has started to turn yellow or brown. You want to cut asparagus down to about 2-inches (5 cm) above the ground, and you should be careful not to damage the roots or the crown of the plant.
Read More: How To Grow Asparagus
Mulching Asparagus Over Winter
Once you cut back an asparagus plant in the late fall or early winter you should add 3 to 5-inches of mulch to your asparagus beds. This will help suppress weeds, and it will insulate the soil from any hard frosts that occur during the winter.
Asparagus Care in Spring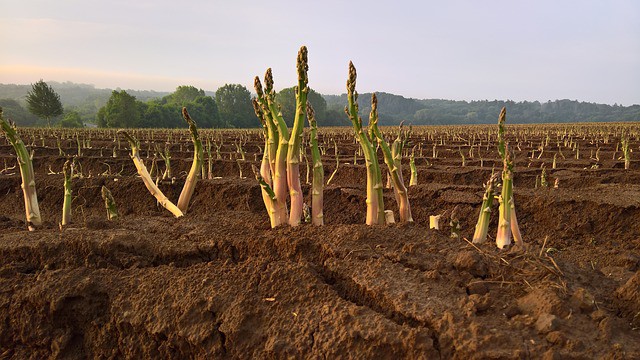 In spring you can add a light layer of straw or wood mulch to your asparagus beds to help keep early spring weeds under control. Spring is also a good time for renewing asparagus beds by broadcasting a good asparagus fertilizer (10-10-10 or 12-12-12 NPK) evenly across the surface of the soil.