I think you'll agree with me that watering your trees by hand can be a tedious and time-consuming process. That's probably why you're looking for the best soaker hose for trees, so you can save some time while still keeping your trees healthy through the summer.
If you just want to know our top pick we recommend the Dramm Tree Soaker Hose Ring (Click Here). Otherwise, if you want to learn more you can read the rest of this article for a complete breakdown of the best soaker hose options.
Best Soaker Hose for Trees
What is a Soaker Hose?
A soaker hose is a special type of hose that slowly releases water on any surface that's directly underneath it. A soaker hose has small pores along its whole surface that allow it to "weep" water along the length of the hose. That makes it well suited for large areas that need a gentle steady supply of water.
Most soaker hoses are made from a blend of recycled rubber and polyethylene plastic, and you can even get certain models of soaker hoses that are made from BPA free plastic.
Soaker hoses are also very environmentally-friendly since they help conserve water by delivering moisture directly to roots of a plant. This can help reduce the amount of water that is lost to runoff and evaporation, and it can even help limit certain fungal diseases.
There are numerous benefits when you use a soaker hose to water your trees, but you might be wondering if a drip system is a better option. If you want to know more about that you can read the next section that covers the pros and cons of using a soaker hose vs drip system.
Soaker Hose vs Drip Irrigation
Soaker hoses and drip irrigation systems both serve a similar purpose. They each deliver a focused supply of water to the roots of a tree, and they both help conserve water. Each system has its own unique benefits and drawbacks though, which we'll go over in detail in the following sections.
Soaker Hose
Benefits
Installing a soaker hose is very easy since you just need to connect it to a water spigot and snake it around the trees that you want to water.

Soaker hoses provide a steady source of moisture over a large area

A soaker hose will usually supply a greater volume of water in a shorter period since they can operate at higher pressures.

Soaker hoses tend to be more affordable, and they don't require any additional parts like a drip system.

Soaker hoses require minimal maintenance since they don't clog easily, and they won't need to be flushed on a regular basis.

You can even connect one to a soaker hose timer to automate your watering schedule, and to help conserve water.
Drawbacks
Soaker hoses aren't as expandable and modular as a drip irrigation system.

A Soaker hose will tend to lose pressure towards the end of the hose, and they don't do as well on surfaces with large changes in elevation

Soaker hoses are not easy to repair if they get nicked or damaged, and sun damage can cause them to become brittle and prone to cracking.
Drip Irrigation
Benefits
Drip irrigation systems deliver water right to the roots of a plant, and the drip emitters will deliver a more focused stream of water.

Drip systems are relatively easy to install, and you can configure the drip nozzles to match the layout of almost any type of orchard or garden.

Drips systems also work well on sloped surfaces since you can install pressure-regulators to help preserve the flow of water

Drip irrigation systems are easy to repair because you can easily replace a section if it gets damaged by a garden fork or a lawnmower.
Drawbacks
The emitters on a drip system can easily become clogged, and they will require regular cleaning and maintenance to keep them flowing.

A drip system will also need to be flushed out periodically since the narrow tubes are more susceptible to debris and mineral build up.

Drips systems deliver a more focused stream of water, which is great for smaller row crops, but they aren't as effective for trees that have large spread out root systems.
Best Soaker Hose for Trees
The Dramm Corporation Color Storm Tree Soaker Ring (Buy Online) is one of the best soaker hoses for trees on the market. This tree soaker ring is available in either a 5-foot or 10-foot model, and you can even connect them together if you need to water a larger area.
This soaker hose is made from 100% recycled material, and it's very durable since it's 50% thicker than most soaker hoses. The added thickness of the hose will also help prevent kinks that could slow down the flow of water.
Another great thing about this hose is that the fittings on this soaker hose are made from rust-resistant nickel plated brass. In addition, all of the parts and materials on this hose are covered by a lifetime guarantee, so if it ever fails for any reason Dramm will replace it
The Gardener's Supply Company Landscape Watering Snip-n-Drip Soaker System (Buy Online) is a fully customizable tree-watering system. This system includes 100-feet of 1/2-inch soaker hose and 50-feet of 1/2-inch garden hose. It also comes with 20 hose couplers, faucet adapter, quick-connect coupler, and one end cap.
The Snip-n-Drip Soaker System can be configured to cover up to 10 watering zones, and it will only take a little less than an hour to install the whole system.
The Snip-n-Drip Soaker System offers most of the advantages of a drip irrigation system along with all of the benefits of a soaker hose. That means you can place the soaker hose sections right above the roots of your trees, and it won't waste any water between the soaker hose sections.
Overall this is a great soaker hose system if you have a lot of widely spaced trees to water. You can also use it on a single tree since you can splice together one section and expand it later if you need to cover a larger area.
The WATERHOOP Water Sprinkler (Buy Online) is a good alternative to a tree-watering soaker hose system. The Waterhoop can deliver either a spray of water when it's facing upwards, or you can turn it upside down and it will work like a drip irrigation system.
The WATERHOOP is a great alternative if you've used a soaker hose in the past and have had problems. This tree-watering system is clog resistant, and it won't get crushed if you step on it or drive over it with a lawnmower.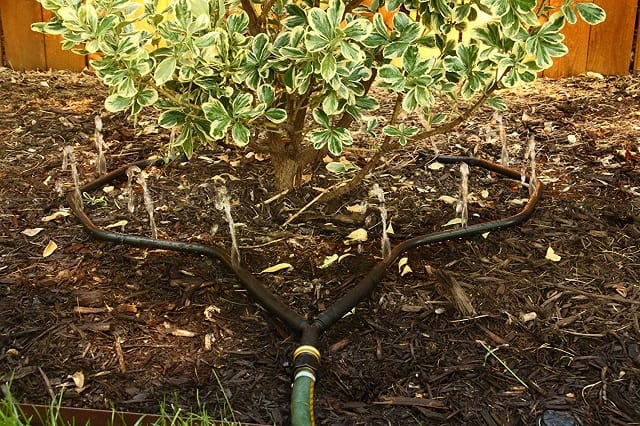 The WATERHOOP is very resistant to sun damage which makes it perfect for hot dry climates. You can also easily move it around since it weighs less than most soaker hoses, and you can adjust the spread of the watering arms to cover almost any size root system.
The WATERHOOP drip irrigation tree ring also has a valve that you can use to control the amount of water you want to deliver to the roots of your tree, so you won't have to run back and forth to the spigot.
All in all, this is a unique tree watering device that can serve as a great alternative to a soaker hose in certain conditions.
Soaker Hose Reviews
The Dramm ColorStorm Premium Soaker Hose (Buy Online) is a great choice if you have a lot of closely spaced trees that need to be watered. This soaker hose is made from 100% recycled material, and it's 50% thicker than comparable soaker hoses on the market.
This soaker hose is perfect if you have a long row of trees that need a nice even steady supply of water throughout the summer.
The 50-foot model or the 25-foot model will also cover a much larger area than a tree ring soaker hose, and this hose is also cheaper per foot than the tree ring model.
This soaker hose is made with the same quality construction that Dramm puts into all of their products like nickel coated brass fittings and solid crush proof rubber. And if it ever does fail it's fully covered by a lifetime warranty.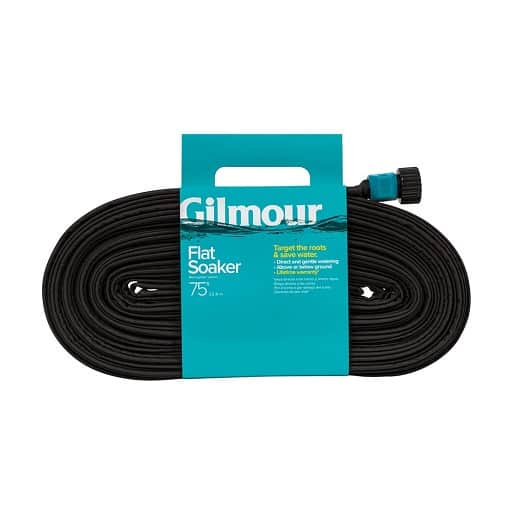 The Gilmour Flat Soaker Hose (Buy Online) is the best flat soaker hose on the market, and it comes in a wide range of size options. This soaker hose comes three different lengths (25-foot, 50-foot, 75-foot), and you can even connect them if you have a larger area to cover.
This flat soaker hose is made from 100% recycled vinyl and it has a clog resistant synthetic fabric cover that helps evenly distribute the water. It also comes with a full 7-year warranty, so if it ever rips or tears Gilmour will replace it.
Flat soaker hoses also have the added benefit of being much lighter than their solid rubber counterparts, which makes them much easier to move, and they don't take up a lot of room when you have to store them.
Best Soaker Hose Timer
The Melnor Digital Water Electronic Hose Timer, 4 Zone (Buy Online) is one of the most full-featured soaker hose timers on the market. This hose timer has an easy to read LCD screen and large rubber buttons that make it simple to program. This 4-Zone system can run up to 4 watering cycles each day, and it has a manual mode that you can use to override the timer.
The timer will run for up to 6 months using 2 AA batteries. It also has a built-in memory that will retain your settings even if the batteries fail, so you'll never have to reprogram it. And to top it all off it's backed by a Melnor 7-Year Limited warranty.
The TACKLIFE Watering Timer, Solar Powered Garden Timer (Buy Online) is a great choice if you need a soaker hose timer that never needs batteries. The solar panel located on the top of the unit will keep the built-in Lithium-Ion battery charged at all times, so all you'll need to do is just set it and forget it.
This soaker hose timer can be set to turn on and off every 2 minutes or up to every 7 days. Then you can set the water to run for as little as 1 minute, or all the way up to 12 hours. It also has a rain delay function that will let you postpone watering for 12 to 720 hours.
Soaker Hose Pressure Regulator
The Senninger 25 PSI 3/4″ Hose Thread Pressure Reducer (Buy Online) will help keep your soaker hose protected from spikes in water pressure. This pressure-regulator will maintain steady 25-PSI water pressure, so your soaker hose won't bulge or tear open, and it can help stop the 'geyser effect" which are basically leaks that can form along the length of the hose that sprays out streams of water.
Installing a Soaker Hose