Hey there, fellow foodies! It's game day, and you know what that means – time for some seriously tasty snacks that'll have your taste buds doing the touchdown dance. Today, we're diving headfirst into the world of spicy, cheesy, and oh-so-delicious Cheesy Bacon Jalapeno Poppers. These little flavor bombs are perfect for game day gatherings, backyard BBQs, or any occasion that calls for a mouthwatering appetizer. So, preheat that oven to 325 degrees, and let's get poppin'!
Step 1: Prepare the Peppers
First things first, we need to get those jalapeno peppers ready for their cheesy makeover. Give them a good wash, and then it's time to bid adieu to their tops. Say goodbye to those stems!
Step 2: Scoop Out the Heat
Now, here comes the spicy part (literally). Put on those gloves – trust me, you'll thank me later – and carefully slice the peppers in half lengthwise. Then, scoop out the seeds and that white membrane inside. We want the heat, but not an inferno, right?
Step 3: Mix Up the Cheesy Goodness
In a medium bowl, let's create the magic. Mix together cream cheese, shredded cheese (go wild with your favorite cheese blend), finely chopped green onion, a dash of garlic powder, and a pinch of onion powder. Stir until it's a creamy, cheesy dream.
Step 4: Fill 'Em Up!
Now, it's time to stuff those jalapeno halves with our creamy cheese mixture. Don't be shy; pile it on! We're talking about maximum flavor here.
Step 5: Bacon Blankets
What's a popper without bacon? Grab your trusty bacon slices and give each stuffed jalapeno half a cozy bacon blanket. Wrap it around, not too tight – we want that bacon to crisp up perfectly. If you're feeling fancy, secure it all with a toothpick.
Step 6: Pop in the Oven
Finally, pop those poppers into the preheated oven at 325 degrees Fahrenheit. Let them sizzle and bake for an hour, or until the bacon is crispy, the cheese is gooey, and your kitchen smells like a flavor paradise.
Conclusion:
And there you have it, folks! Cheesy Bacon Jalapeno Poppers that are sure to steal the show at your next gathering. These little bites of heaven bring the perfect balance of creamy, spicy, and savory to your taste buds, and they're an absolute touchdown for game day. So, don't wait! Preheat that oven, get your gloves ready, and let's make some poppin' deliciousness. Enjoy!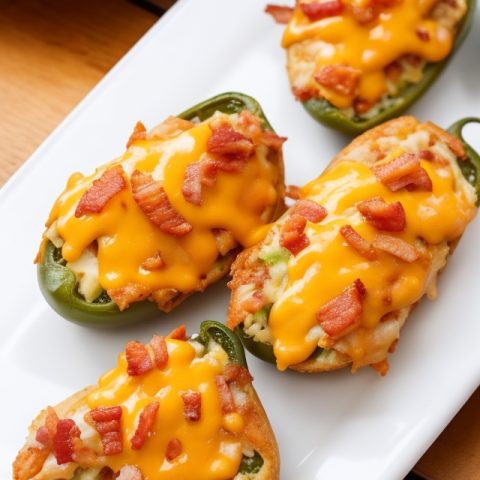 Cheesy Bacon Jalapeno Poppers
Total Time:
1 hour
30 minutes
Get ready to score big with our Cheesy Bacon Jalapeno Poppers! These zesty, creamy, and bacon-wrapped delights are the ultimate game day treat.
Ingredients
18 fresh medium-sized jalapenos
1 - 8 oz cream cheese
1/2 cup shredded cheddar
2 green onions sliced thin
18 slices bacon cut into halves
1/2 tsp garlic powder
1/2 tsp onion powder
Instructions
Preheat oven to 325. Wash peppers and remove ends.
Wearing gloves, cut peppers in half lengthwise. Remove seeds and white part in the middle.
In medium bowl, mix together cream cheese, shredded cheese, green onion, garlic powder and onion powder.
Fill peppers with cheese mixture.
Wrap bacon around jalapeno (not too tight) and secure with toothpick if desired.
Cook jalapeno poppers for 1 hour
Nutrition Information:
Yield:

36
Serving Size:

1
Amount Per Serving:
Calories:

79
Total Fat:

7g
Saturated Fat:

3g
Cholesterol:

17mg
Sodium:

106mg
Carbohydrates:

1g
Fiber:

1g
Sugar:

1g
Protein:

2g