Hey there, fellow food enthusiasts! Today, we're diving into the world of old-fashioned goodness with a recipe that'll make your taste buds dance – Old-Fashioned Zucchini Fritters. These little wonders are not only delicious but also a fantastic way to use up that surplus zucchini from your garden. So, roll up your sleeves and let's turn those green goodies into crispy, golden circles of delight!
Step 1: Zucchini Zen
Our first task is to wring out every drop of moisture from our zucchini. Shredding them is the easy part, but when it comes to moisture, we mean business! Grab a handful of shredded zucchini and give it a good squeeze – think of it as a stress-relief exercise. The drier, the crispier, so give it your all!
Step 2: The Mixer's Magic Dance
Now that our zucchinis are feeling lighter, let's bring them together in a medium mixing bowl. Add all the other ingredients into the mix, except for the oil. Give it a gentle stir until everything gets acquainted. It's like a culinary social gathering, and our zucchinis are the life of the party!
Step 3: Hot Oil Tango
Heat up a frying pan over medium-high heat and pour in the oil. This is where the sizzle and pop begin, and you know the magic is about to happen. Wait about two minutes for that oil to get hot and shimmer – it's like the pan's way of saying, "I'm ready to fry!"
Step 4: Batter-Up!
Now, the fun part – spoon approximately 2 tablespoons of that zucchini batter into the pan. Use your spoon to flatten it into a glorious, golden circle. It's like creating edible art, one fritter at a time.
Step 5: Fritter Flipper
Wait patiently as the fritter works its magic in the hot oil. After about 2 minutes, it should be golden brown and ready to flip. Now's your chance to show off your flipping skills. Cook for another 2 minutes until it's beautifully browned on both sides and cooked through.
Step 6: The Great Fritter Escape
Gently rescue your crispy creation from the hot oil and let it drain on a plate lined with paper towels. It's like a fritter spa treatment – any excess oil gets soaked right up.
Step 7: Repeat and Revel
Repeat steps 4-6 until you've transformed all your batter into these delectable fritters. You should end up with around 10-20 of these golden delights, enough to feed a small army or a very hungry family.
Step 8: The Grand Finale
Now, the moment you've been waiting for – savoring the fruits of your labor! Serve these crispy zucchini fritters as a side dish, appetizer, or even a light meal. Dip them in your favorite sauce or enjoy them as they are – they're bound to be a hit!
There you have it, folks – a fun and flavorful journey from shredding zucchinis to savoring golden fritters. These Old-Fashioned Zucchini Fritters are perfect for gardeners, food lovers, and anyone looking for a delightful snack. So, go ahead, get frying, and enjoy these crispy circles of nostalgia. Bon appétit! 🍽️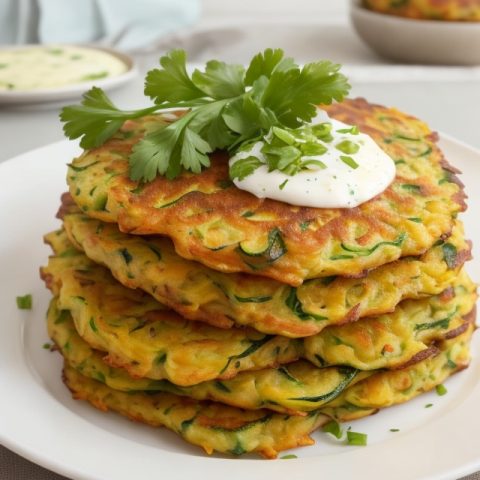 Old-Fashioned Zucchini Fritters
Additional Time:
35 minutes
Total Time:
1 hour
10 minutes
Shredded zucchini, mixed with savory ingredients, dances in hot oil until it becomes irresistibly crispy. Serve them as a delightful appetizer, side dish, or even a light meal, and watch as they disappear in moments. Perfect for using up your garden's green treasures or simply satisfying your cravings.
Ingredients
approx. 5-6 cups shredded zucchini 2 large OR 3 medium zucchini
3/4 cup flour
1/2 cup Parmesan cheese
2 tsp minced garlic
4 eggs beaten
1/2 tsp garlic powder
1/2 tsp onion powder
salt and pepper to taste
1/2 cup oil for frying or enough to fill bottom of pan
Instructions
Shred zucchini and squeeze as much moisture out as possible
In medium mixing bowl, combine all ingredients (except the oil) and stir.
Pour oil into frying pan over medium high heat until oil is hot (this will take approx. 2 minutes.
Once oil is hot, drop approx. 2 tbsp batter into pan and flatten into a circle with a spoon.
Repeat step 4 until pan is full.
Cook until golden brown (approx 2 minutes) and flip fritters.
Cook additional 2 minutes or until golden brown on both sides and cooked through.
Remove fritters from oil and place on a plate lined with paper towels.
Repeat steps 4-8 until all batter is cooked (makes approx. 20 fritters).
Nutrition Information:
Yield:

20
Serving Size:

1
Amount Per Serving:
Calories:

96
Total Fat:

7g
Saturated Fat:

1g
Cholesterol:

34mg
Sodium:

56mg
Carbohydrates:

5g
Net Carbohydrates:

5g
Fiber:

1g
Sugar:

1g
Protein:

5g