It's a good idea to compare the Earth Box vs Grow Box self-watering planter before you decide to spend your hard-earned money. They each have a similar set of features, but there are some differences that set them apart.
That's why we created this EarthBox vs Garden Patch Grow Box Guide, so you can quickly figure out which self-watering planter is the best one to buy.
Earth Box vs Grow Box
EarthBox

GrowBox


Price

Dimensions

29″ L x 14″ W x 11″ H
28"L x 14"W x 12"H

Water Reservoir

3-Gallons
4-Gallons

Accessories

EarthBox Staking Kit

Plastic Mulch

EathBox Stand

GrowBox Support Structure

Nutrient Patch / Mulch
Garden Patch Grow Box vs EarthBox
EarthBox Garden Kit
The EarthBox Organic Garden Kit (Buy Online) is one of the most popular garden growing boxes on the market. This self-watering planter takes the guesswork out of gardening, so you can reap a bountiful harvest even if you don't have a green thumb.
Container Size – Water Reservoir
The EarthBox Garden Kit comes with a 2-cubic foot container and an aeration screen that separates the water reservoir from the soil. The water reservoir in the EarthBox can hold up to 3-Gallons of water, while the Garden Patch Grow Box can hold 4-Gallons of water
The fill tube that comes with the EarthBox Garden Kit allows you to easily fill the water reservoir. However, the fill tube needs to be passed through the soil when you fill the planter. While the GrowBox (Buy Online) can be topped off with water using a convenient filling port located on the side of the planter.
Portability
The EarthBox Garden comes with 4 caster wheels that will make it easy to move the planter even when it's filled with water and soil.
The GrowBox, on the other hand, does not come with wheels, so it isn't that easy to move, especially given the fact that it will weigh 50 pounds when it's filled with potting mix and water.
Mulch
The EarthBox Garden Kit also includes two black & white plastic mulch covers. The black side will help warm the soil in the spring, while the white side will keep the soil cool and moist in the hot summer sun.
The Garden Patch GrowBox comes with a permeable Nutrient Patch that releases fertilizer, stops weeds, and you can cut holes in it with a knife based on the instructions in the plant spacing guide, which makes it easy to space plants of any shape or size.
Fertilizer
With the EarthBox Garden Kit, you also get 1-pound of 7-7-7 NPK fertilizer, along with a 1-pound bag of dolomite lime. The GrowBox comes with a bag of time-released fertilizer, but it doesn't include any dolomite.
Earth Box vs Grow Box Accessories
EarthBox Staking System
The EarthBox Staking System (Buy Online) helps support large plants like tomatoes or vines. The Staking System uses a net as the primary support structure. That makes it suitable for most plants, but it might have trouble supporting melons or other heavy fruit-bearing vines.
The EarthBox Staking System is 60-inches tall and it's easy to assemble and install on any Standard EarthBox.
It also comes with outriggers that make the whole system more stable and less prone to falling over. You also get 2 casters that can be inserted into the outriggers, so you can use it in conjunction with the casters that come with the EarthBox Standard Kit.
GrowBox Support Cage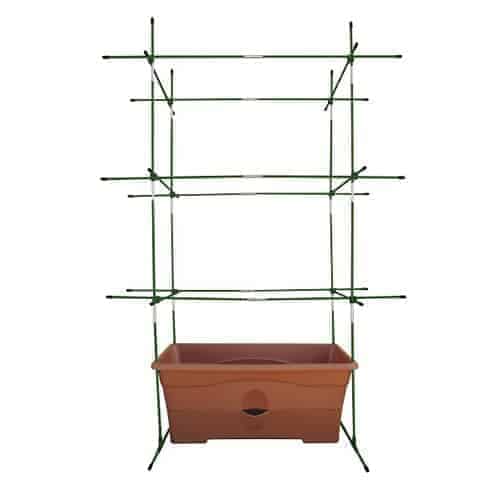 The GrowBox Support Cage is made of fiberglass and it has a faux bamboo design. It's made to be used over any kind of planter, so you could even use on an EarthBox or a City Pickers self-watering planter.
The GrowBox Support Cage uses thick rods that can hold up more weight than netting, so you can use it with heavier plants that need more support. The whole structure also collapses down for easy storage.
There are also no metal parts on the GrowBox Support cage, so you won't have to worry about it rusting or weakening over time.
EarthBox Mulch Kit, Black/White
The EarthBox Mulch Kit (Buy Online) is a plastic mulch alternative that helps prevent weeds, and it keeps the soil at the proper temperature and moisture level all season long.
You can also get a red mulch cover for the EarthBox that has been shown to enhance the growth of tomato plants and to improve their yield thanks to the reflected red light.
Earth Box vs Grow Box Fertilizer
EarthBox 81100 Replant Kit, Standard
The EarthBox Replant Kit (Buy Online) comes with 1-pound of fertilizer, 1-pound of dolomite, along with two black & white mulch covers that are fully reversible.
There are also replant kits available for the EarthBox Junior, or the EarthBox Root & Veg Gardening Kit. Also, if you prefer natural non-synthetic fertilizer you can get an Organic version of the replant kit for both Standard and Junior EarthBox.
Garden Patch Replacement Fertilizer Replant Kit
The Garden Patch Replacement Fertilizer Replant Kit (Buy Online) comes with everything you need to reuse your GrowBox. It includes a new permeable Nutrient Patch that slowly releases fertilizer all season long, and it also serves as a very effective weed control mulch.
EarthBox vs The Grow Box – Cost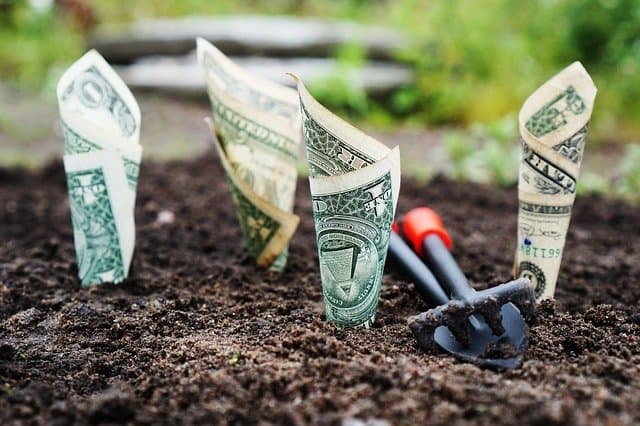 The EarthBox self-watering planter is a little more expensive than the garden patch grow box. However, the EarthBox does come with a few extra accessories that help offset the higher purchase price.
The EarthBox Gardening Kit comes with 4-casters that you can insert into the base of the EarthBox, it also includes fertilizer along with dolomite lime. The Garden Patch Grow Box only comes with fertilizer and the Nutrient Patch, and it doesn't come with casters or dolomite.
EarthBox vs Garden Patch Grow Box Reviews
Most users of both the EarthBox and the GrowBox are generally happy with how each one of the self-watering planters performs. They each get high ratings for how easy they make it to start a garden for beginners.
The EarthBox is highly rated for its portability since it comes with casters included as part of the Standard Kit. The casters make it much easier to maintain plants on a deck or a balcony where space is at a premium.
The GrowBox gets high praise for its 4-gallon water reservoir which makes it last longer between refills. The watering port is also easier to use on the GrowBox compared to the fill tube on the EarthBox.
EarthBox vs Garden Patch Grow Box – Learning Resources
EarthBox has a Learning Center on their website that has a complete set of EarthBox instruction manuals along with growing guides, insect identifiers, zone calendars, and a whole lot more.
The EarthBox website also has video guides and a blog, along with the EarthBox forum where you can share tips with other EarthBox owners.
Garden Patch Grow Box Instructions
The Garden Patch Grow Box website has a resource section that has Garden Patch Grow Box instructions along with other useful videos and growing guides.
The GrowBox site also has a blog where they share timely tips throughout the growing season. You can also submit your photos of your GrowBox garden for a chance to be chosen as the top photo of the week on the GrowBox blog.