These delicious garden tomato recipes are a great way to make use of a bountiful harvest of tomatoes from your garden. These recipes are easy to follow, and each garden tomato recipe is followed by a video that will walk you through the complete preparation process.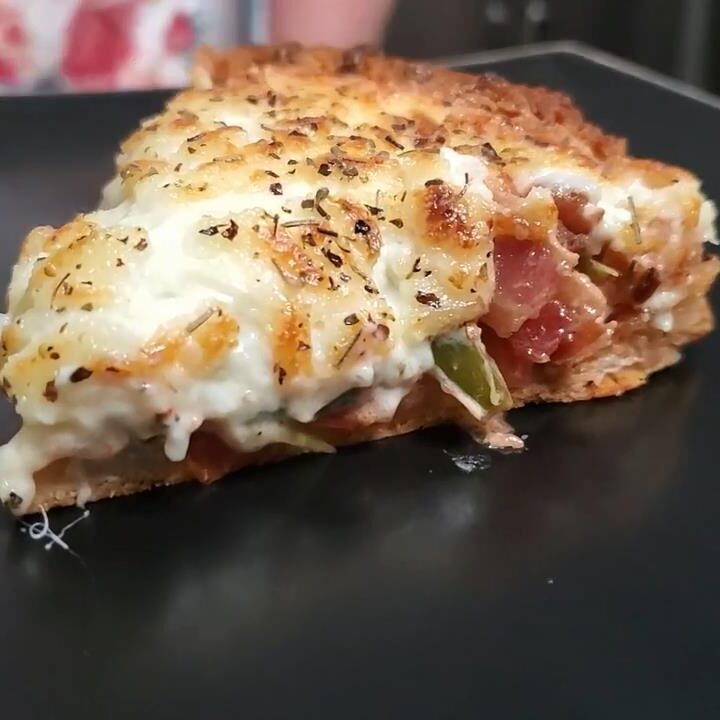 Bacon Tomato Pie in a Deep Crust
Ingredients
1 CAN GRAND'S BISCUITS
1-2 SLICED TOMATOES
3 SLICES BACON COOKED CRISP
FEW ONIONS AND PEPPERS
1/2 CUP MAYONNAISE
1 CUP MOZZARELLA CHEESE
BLACK PEPPER
ITALIAN SEASONING
Instructions
Prepare Crust: Spray an 8- or 9-inch cake pan with cooking spray. Open biscuits and press them into the bottom of the pan pushing some up the sides. Or you can combine the dough and roll it out with rolling pin.
Bake crust at 350 degrees F for 15 minutes.
Place bacon on two paper towels and cook for 2 minutes in microwave or until crispy.

Slice tomatoes and sauté onion and peppers in a little bacon grease while waiting on crust to bake.

Combine cheese and mayo well.

Take out crust when ready and scoop out the center and make a well for tomatoes and filling.

Place tomatoes in crust and sprinkle with black pepper. Put the onion and peppers on and crumble bacon on top.
Top with mayo cheese mixture and spread out over pie. Sprinkle with Italian seasoning. Bake at 350 degrees for 40 minutes and reduce cooking temp to 325 for 30 minutes in a toaster oven.
Take out slice and enjoy! This is AMAZING!!
Creamy Tomato Bisque Recipe
Yield: 6 Servings

Prep Time: 40 minutes

Cook Time: 1 hour

Total Time: 1 hour 40 minutes
Ingredients
4 tablespoons olive oil
1 yellow onion diced
2 stalks celery diced
1 pound cherry tomatoes
1 red bell pepper
1/2 teaspoon kosher salt
1/8 teaspoon coarse ground black pepper
1 pinch red pepper flakes
1 teaspoon paprika
1 teaspoon dried basil
4 cloves garlic minced
4 cups veggie broth (or chicken broth)
14 ounces crushed tomatoes
1 teaspoon white sugar
1 cup heavy cream
Instructions
Preheat oven to 400 degrees F.
Add 2 tablespoons of olive oil, fresh cherry tomatoes and sliced red bell pepper to a large bowl. Season with salt and pepper and toss to combine.
Arrange on a large baking sheet and roast for 20-30 minutes
Add 2 tablespoons of olive oil to a large pot or Dutch oven over medium heat and cook the onion, celery, salt, pepper, red pepper flakes, paprika, and basil for about 5-6 minutes or until the onions are translucent.
Add in the garlic and stir for 30 seconds before adding in the roasted tomatoes and pepper, broth, crushed tomatoes, and sugar.
Lower the heat to a simmer and cook for 30-40 minutes before blending until perfectly smooth with an immersion blender.
Add in the heavy cream, mix well and serve using more heavy cream and parsley as garnishes.
Nutrition Information:

Amount Per Serving: Calories: 171Total Fat: 11gSaturated Fat: 2gCholesterol: 4mgSodium: 937mgCarbohydrates: 16gSugar: 3gProtein: 4g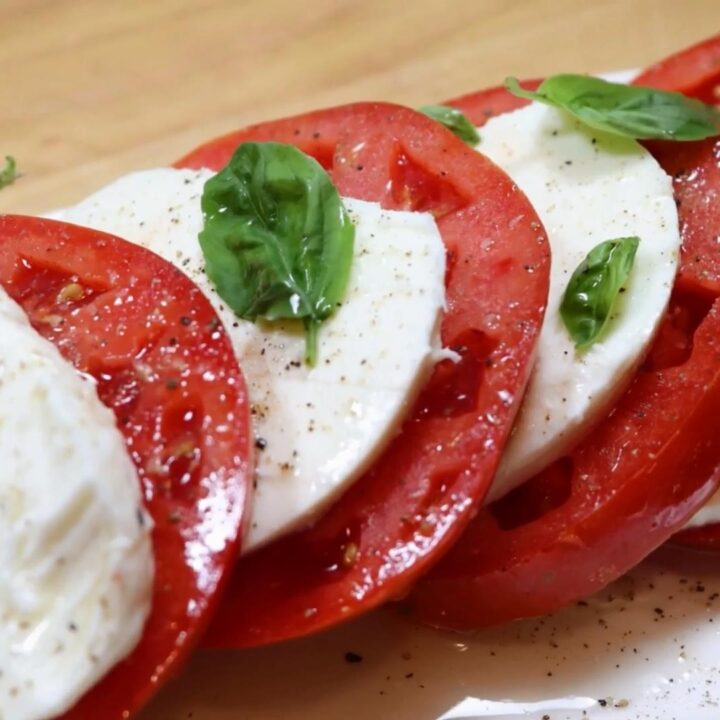 Delicious Caprese Salad / Easy Recipe
Ingredients
1 or 2 Large Tomatoes – sliced ¼"
1 lb Fresh Mozzarella – sliced ¼"
Salt & Pepper
Olive Oil
Fresh Basil
Instructions
Slice Tomatoee
Slice Mozarella
Place Tomato Slice
Top With Mozarella
Repeat
Salt & Pepper To Taste
Add Fresh basil
Drizzle Olive Oil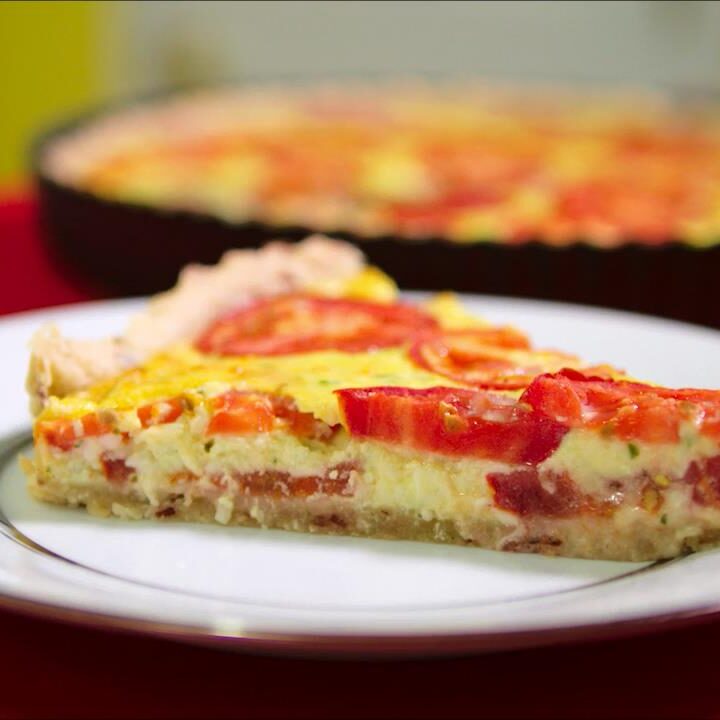 Tomato Ricotta Tart
Yield: 1 Tart

Cook Time: 50 minutes

Total Time: 50 minutes
Ingredients
3 cups flour
1 tsp salt
1 tbsp sugar
7-8 slices crisp bacon, crumbled
Instructions
Put all in a food processor and mix a few times. Add 7-8 slices of crumbled crisp bacon. Process a few times.

Add 1/3 cup of very cold shortening (prefer Crisco) and 12 tbsp very cold butter cut into cubes

Process 6-8 times.

Add 6-8 tbsp ice water and process until it almost comes together.
Remove and wrap in plastic wrap and refrigerate at least 30 minutes.

Roll out dough and fit into a 12″ (or 8″ or 10″) tart pan with a removal bottom. Refrigerate until ready to fill.
Filling:
In food processor, put 1/2 cup whole milk ricotta, about 1.2 cup
fresh basil leaves, 3 eggs, 8 oz shredded mozzarella and 1/3 cup grated
Parmesan. Season with salt and pepper if desired. Process until almost
smooth.

Slice up 4 large ripe tomatoes or 8 roma tomatoes and put on a paper
towel lined sheet pan. Season with salt and pepper and let sit for 5-10
minutes.

Line bottom of tart with some of the tomatoes. Top with the cheese
mixture and then top the cheese mixture with more tomatoes. Bake in a
350 degree oven for 45-50 minutes or until lightly browned on top and
set. Let sit in pan about 10 minutes before cutting and serving!



Tomato Avocado Chicken Salad
Prep Time: 10 minutes

Total Time: 10 minutes
Ingredients
1 large tomato or 1 cup cherry tomatoes
2 small cucumber, chopped
1/2 cup cooked chicken, chopped
1 small green pepper
1/2 avocado, chopped
handful basil, chopped
2 scallions, chopped
handful of olives
1/2 lemon, juice of
1 Tbsp olive oil
black pepper
salt
Instructions
Chop the vegetables and the chicken and add them to a bowl.
Squeeze the lemon, add olive oil and grind some black pepper.
Mix it all together and add salt to taste.
Enjoy immediately!