If you are searching for the perfect present for the gardener in your life, here are our top gifts for gardeners in the UK. Happy holiday shopping!
Gifts for Gardeners UK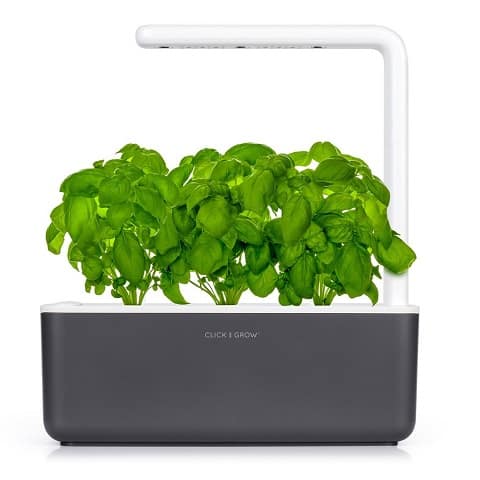 The Click & Grow Smart Garden (Buy Online) is the perfect way to allow the gardener in your life to be able to do what they love all year round, regardless of the weather. With this planter, you can grow anything from herbs to vegetables, all with the help of an energy-efficient LED lamp.
This Gardening Journal (Buy Online) includes a daily gardening planner, a planting profile, and a space for gardening notes. Additionally, the journal also includes gardening tips and delicious recipes. The cover of the journal has a beautiful painting of garden flowers with a bumblebee.
This Seed Sack (Buy Online) contains a collection of thirty vegetable and fruit seeds including tomato, carrot, broccoli, cauliflower, and pear seeds comes with sowing and growing instructions so it is a wonderful gift for both amateur and professional gardeners.
The Boozy Gardeners Seed Kit (Buy Online) allows gardeners to grow the ingredients needed to make 18 original cocktails. The kit comes with six seed varieties (including lemon bergamot and orange thyme) as well as peat pots and blocks, growing tips, and instructions to make cocktail syrups.
Every gardener needs a good watering can, and this Steel Watering Can (Buy Online) is great because it has a long mouth designed specifically for gardeners. This stainless steel watering can is able to be used both indoors and outdoors and is durable with the company promising a long service life.
This Novelty Garden Mug (Buy Online) has a wellington shaped handle with a design on the front featuring gardening tools and the words "a little dirt never hurt." The ceramic mug can hold up to 12 fluid ounces of tea, coffee, or any other drink.
This RHS Gardening Guide (Buy Online) is great for any gardener. Written by Ian Spence, this book offers guidelines for what you should do each month in your garden, with information on over 350 plants and detailed step by step instructions.
READ MORE: Best Gifts for Vegetable Gardeners
This Garden Apron & Kneeler (Buy Online) goes down to the thighs and has a top pocket and eight side pockets, perfect for storing any gardening tools. The kneeling pad is fast recovering and is gentle on the knees. Both of these products come together in a gift box.
If you are looking for a fun stocking stuffer for a gardener, this is a cute little novelty gift. This Survival Garden Kit (Buy Online) contains treats like a tea bag to warm up the gardener after a cold day and salt to keep slugs at bay.
This Garden Tool Set (Buy Online) is perfect for your favorite gardener because all nine pieces in the set are durable and rust-resistant. The kit comes with gloves with claws, trowels, rakes, spears, and more, all in a carrying tote.
This Fun Gardening Shirt (Buy Online) comes in men, women, or youth sizes, and you can select from a variety of colours including black, blue, green, yellow, or purple. This gardening themed shirt is perfect for anyone who loves tending to their garden.
For the littlest gardeners in your life, this kit is a great gift. This collection of Children's Gardening Tools (Buy Online) is designed specifically for little hands. The handles on all the tools are made of wood, which makes for easy handling, and the tools can be actually used in the garden, or for fun at the beach.
The Flora Guard Toolset (Buy Online) comes with a trowel, a cultivator, and a pruning shear, and all the pieces are sturdy, easy to clean, and has comfortable handles. You can select from two colour choices (purple and red).
The Hotem Heavy-Duty Tool Set (Buy Online) includes pruners, gloves, a spray bottle, and a gardening bag, among other things. This toolset makes digging, weeding, and transplanting in your garden a breeze.
Thie KEESIN Gardening Hand Tool Set (Buy Online) comes in an easy to carry, portable case, which also allows for easy organization of all of the tools. The tools are lightweight, but also durable, easy to clean, and rustproof.