If you're looking for unusual gifts for gardeners then you've come to the right place. Whether you're looking for personalized garden stones, gardening tools, personalized garden stakes, or personalized garden statues you're sure to find dozens of unique gifts for gardeners who have everything.
Unusual Gifts for Gardeners
The Biovessel – Eco Living Composter (Buy Online) is an indoor composter that turns food scraps into rich organic soil. This tabletop composter will quickly convert any organic matter into rich fertile compost using composting worms. This process requires no turning or mixing and it's completely odor-free.
The Creative Design Levitation Planter (Buy Online) is one of the most interesting gifts for gardeners who have everything. This planter uses magnetic levitation to float a spherical planter above a stylized stone base. The floating pot is large enough to hold a wide range of plants like succulents, lucky bamboo, or even a small bonsai tree.
The Water Generating Dewplanter (Buy Online) is a self-watering planter that pulls moisture right out of the air. It works by condensing enough moisture from the atmosphere to meet a plant's daily water needs. The Dewplanter is one of the more unique gifts for gardeners that usually get someone to water their plants whenever they go on vacation.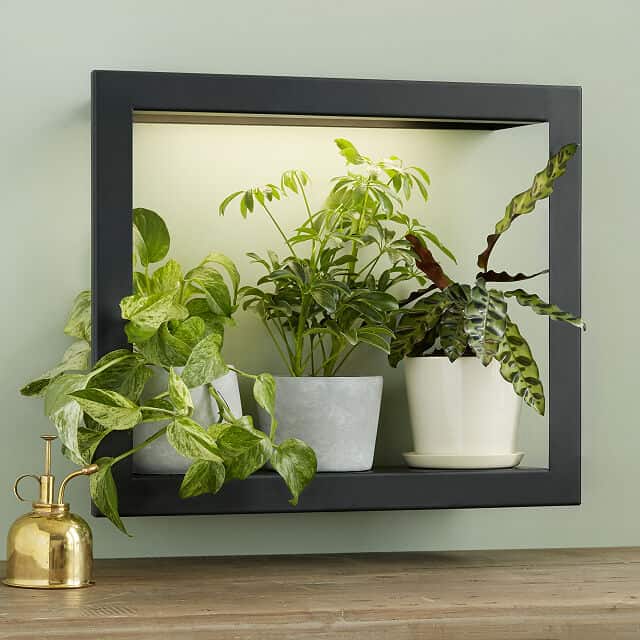 The Growlight Frame Shelf (Buy Online) has a built-in LED light with a timer that will ensure that houseplants get all the light they need to thrive. This is an excellent gift for someone who wants to grow plants indoors in a room with minimal natural sunlight. The Growlight Frame Shelf is available in portrait and landscape frames, and each frame is hand-assembled in the USA.
The Turquoise Passion – Bliss Gardens Air Plant Terrarium (Buy Online) is one of the best gifts for garden lovers that always like to be surrounded by a little greenery. This air plant terrarium comes in multiple different sizes and color options that you can see by clicking the image or the link above. This terrarium also makes a unique gardening gift for Mom or Dad on Mothers or Fathers day.
The Burro Buddy (Buy Online) is a small tool organizer and utility shelf that attaches to a wheelbarrow. It fits most 4, 5, 6, and 7 cubic foot wheelbarrows, and it can hold shovels, rakes, hand tools, pots, and more. The Burro Buddy is also extremely durable since it's UV resistant and it's weatherproof. It's also built to last since it's made in the USA from high-density polyethylene.
The Sunnydaze Garden Cart Rolling Scooter (Buy Online) is one of the top 10 gardening gifts for older gardeners. This garden scooter is sure to help take the pain out of gardening by eliminating all the bending and crouching that comes with maintaining a vegetable or flower garden.
The Shiitake Mushroom Log Grow Kit (Buy Online) is one of the more unique gardening gifts for the gardener in your life. This mushroom growing kit is a great gift for someone who's always trying their hand at growing new things. It's also a great gift for gardeners of all skill levels since mushrooms are easy to grow, and they don't require much space to produce a bountiful harvest of delicious Shiitakes.
The Indoor Waterproof Vertical Living Wall Planter (Buy Online) is one of the best gifts for gardeners who need more space to display all their houseplants. The living wall planter measures 29" x 33" x 1", and it's made from 100% recycled plastic.
The Craft Crush – Mini Terrariums Craft Kit (Buy Online) is a fun gardening gift for kids, or for the DIY aficionado in your life. This set of three hanging terrariums are a stylish piece of living art and they can easily be personalized to suit anyone's taste.
The FUNPENY Wooden Insect House (Buy Online) is a unique gardening gift that also helps the environment. This cute little insect house will give pollinators and other beneficial insects a place to live, which helps protect and preserve endangered pollinators, and in turn that also helps benefit the entire natural landscape.
The LUJII Hummingbird Feeder (Buy Online) will make an excellent addition to any garden. This hand-blown glass hummingbird feeder is a beautiful piece of art that will draw hummingbirds and other pollinators right into a garden for everyone to enjoy.
The Outdoor Butterfly Puddling Stone for Pollinators (Buy Online) is a special garden stone that provides water for visiting butterflies. This ceramic garden stone is designed to draw butterflies into a garden by supplying them with a source of mineral-rich water to drink as they flit about all day pollinating blossoms in a garden.
The DeEFL Extra-Large Self Watering Planters (Buy Online) make a great gift for both indoor and outdoor gardeners. These Self-Watering planters measure 18.3" x 7.9" x 8.86", and they are made from durable polypropylene plastic.
The Burpee Self-Watering Seed Starter Tray (Buy Online) is a great gift for anyone who likes to get an early start on their garden. This seed tray can hold 72 plants, and it has a self-watering reservoir that keeps seedlings perfectly watered.
The Ivolador Modern Test Tube Vase Planter (Buy Online) is a stylish gift for gardeners who enjoy indoor gardening. This vase set can be used to grow plants like pothos hydroponically, or it can be used to display cut flowers. This test tube vase also looks great on a desk if you know someone who needs to add a little life to their office.
The Carrot Design Newspaper Pot Maker (Buy Online) is one of the more unusual gifts for gardeners. This pot maker will turn old newspapers into eco-friendly pots for starting plants, and the biodegradable newspaper pots also make it very easy to transplant seedlings into a garden.
The Gardman R687 4-Tier Mini Greenhouse (Buy Online) is one of the best gifts for greenhouse gardeners. This 4-Tier greenhouse measures 2" L x 18" W x 63" H, and it has a strong tubular frame. The 4-Tier Mini Greenhouse is perfect for small backyards, decks, patios, and even balconies.
The Whitehall Garden Plaque (Buy Online) is a cute little personalized garden stake that measures 14.25" W x 9.5" H, and it weighs 2.36 lbs since it's made of solid aluminum. These personalized garden stakes can be customized with two lines of text, with 12 characters on each line.
Let's Make Memories Personalized Stepping Stones (Buy Online) are a great way to add a personal touch to a garden. These personalized garden stones are available in two sizes small and large. The small stones can fit a single line of text with up to 9 characters, while the large stones can fit two lines of text each with up to 14 characters.
The Pattern Pop Personalized Distressed Garden Sign (Buy Online) is a unique personalized gardening gift. This sign measures 8" x 12", and it has two pre-drilled holes for easy mounting. The sign can be personalized with an established date and a name with up to 14 characters.
The Snack Seeker Garden Sculpture (Buy Online) is an unusual gift for gardeners who love garden statues. This whimsical caterpillar statue is made out of cast aluminum that has a distressed finish that gives it a lot of character, and it measures 18" x 4.5" x 11.5".
The Garden Age Natural River Stone Cairn (Buy Online) is a great gift for anyone who's into Zen Gardens. This stone sculpture is made from natural hand-picked stones, so no two Carins will be the same. They also are available in triple and quintuple stack configurations.
The Solar Garden Statue Frog (Buy Online) is a unique gardening gift that's sure to put a smile on plenty of faces. This frog statue measures 9" H x 5.5" W, and it will easily fit along garden paths and other tight spaces. The frog statue also pulls night watch duty since his eyes illuminate with bright LEDs that are powered by solar power.
The Paint Your Own Garden Gnome Statue Painting Craft Kit (Buy Online) is a cute little gardening gift for kids. This gnome painting craft kit comes with a paintbrush red, yellow, and blue paint. Also, the strong polyresin gnome is durable and weatherproof so it can be placed in a flower bed or vegetable garden.
The Mini Green House Craft Kit (Buy Online) is a great gift for gardeners who like to build miniatures. This kit is made to be hand-assembled piece by piece making it a great stress reliever for the winter season. Once the Mini Greenhouse is completed it can be put on display on a shelf, desk, or even in a showcase.
Glow in The Dark Garden Pebbles (Buy Online) make a unique gardening gift that can be used to accent garden paths or walkways. These glow in the dark stones measure 0.8" – 1.2" and they are made from non-toxic polystyrene. Each bag contains 300 stones and they are available in purple, blue, pink, white, and green.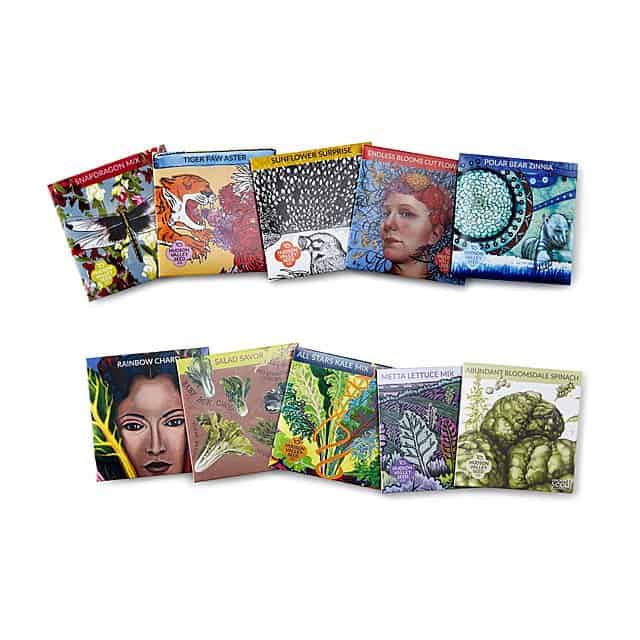 The Artist's Garden Seed Kits (Buy Online) are unique heirloom seeds that are placed in unique artistic seed packets designed by up and coming artists.
The Gourmet Greens Mix includes Bloomsdale Spinach, All-Stars Kale, Metta Lettuce Mix, Rainbow Chard, and Salad Savor Mix.
The Blossom Bouquet includes Sunflower Surprise, State Fair Zinnia, Echinacea, Mammoth Magenta Celosia, and Strawflower.