The aster is the September birth flower. Asters symbolize intelligence, faith, purity, and innocence. The name Aster comes from the Greek word for star, which is a reference to the shape and vibrant color of the flower head.
Asters also have a different meaning depending on their color. White Asters symbolize creation and new beginnings, which makes them a perfect gift for a baby born in September.
Red and pink Asters symbolize undying commitment and devotion, While purple Asters are commonly associated with royalty in European cultures.
September Birth Flower Gift Ideas
The September Birth Month Flower Grow Kit (Buy Online) is a great way to give a gift that will keep on giving. This grow kit includes a glass vase along with a packet of Aster seeds and a soil-less growth medium. It also comes with a card with growing instructions and information about Asters and their symbolic meaning.
The September Birth Month Flower Necklace (Buy Online) is a one of a kind necklace that contains a real pressed Aster. The pressed aster is preserved in a clear resin casting set in a silver bezel, and the pendant comes with a sterling silver chain. Each pendent is handmade in the USA, and the Aster flower is hand picked and carefully selected based on its color and shape.
The Plant Lover's Guide to Asters (Buy Online) is a great gift for a gardener in your life. It makes an excellent coffee table book, and each page is filled with beautiful images and descriptions depicting different Aster varieties. In addition, the book also contains helpful tips for designing an Aster garden from species selection along with care and maintenance advice.
The Aster Birth Month Flower Glass Pendant (Buy Online) is a thoughtful way to remember that special someone with a personalized gift. This pendant features a hand-illustrated Aster flower print artfully encased behind a pane of clear glass. The Aster flower print is framed by a rustic metal bezel and it comes with a matching 24-inch gunmetal chain.
The Decorative Crochet Aster Flowers (Buy Online) are the best flowers to give as a gift since they never need to be watered. Each crocheted bouquet of Aster flowers is handmade in the USA, and they are as unique as any flower you would find in nature. The flowers have 10-inch tall stems with verdant artificial foliage. Also, each set of crochet flowers comes in a beautiful decorative flower pot.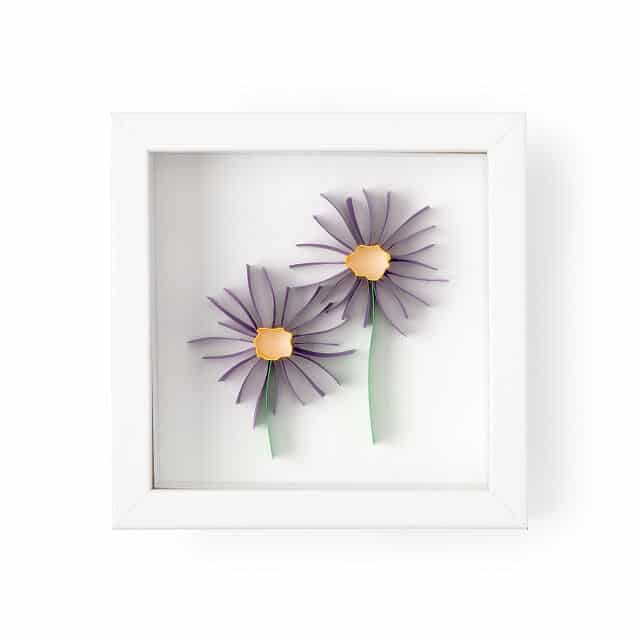 The September Birth Month Flower 3D Aster (Buy Online) is a great gift for anyone born in September. This decorative piece of art features a delicate paper flower encased in a white frame. The paper flower is handmade in a painstaking process, and no two paper flowers will ever be the same. They also look great when hung in groups with each flower representing members of a family.
Aster Blue Flower Seed Packets (Buy Online) are a fun gift to slide into a birthday card along with a check or money. This seed packet contains 2,000 Aster seeds that will grow in USDA Zones 4-8. Asters will also return in a garden year after year since they are a perennial flower that requires minimal care.
The September Birth Month Flower Aster Tea Towels (Buy Online) make a nice addition to a kitchen or even a bathroom. These floral tea towels feature a hand-painted watercolor representation of an Aster flower alongside an inspiring affirmation. Each towel is 100% cotton and they measure 28" L x 18" W, and they are made in the USA.
The Aster Flower Gardening Gift Premium T-Shirt (Buy Online) is the perfect gift for anyone who loves Asters. This high-quality T-Shirt is made from 100% cotton, and it features a custom-designed Aster flower above the handwritten word Aster.
The Women's Virgo Birth Flower Aster V-Neck T-Shirt (Buy Online) combines a lovely Aster flower with a cute little quote about Virgos. If you have a budding astrologer in your life who loves flowers this shirt is sure to bring a smile to their face. The shirt comes in either a V-Neck, Standard, or a Tank Top, and it's made from 100% cotton with sizes that range from small to 2XL.