I think you'll agree with me that starting a garden can be a challenge. Everyone knows all the bending and crouching can put a real strain on your knees and back. Moreover, improper tilling can even damage the structure of the soil.
There's good news though, you can get a broadfork which will allow you to effectively aerate your soil while keeping the soil structure intact. A Broadfork (Buy Online) will also help limit the amount of effort you need to put into loosening the soil. In this article, we'll help you find the best broadfork so you can quickly plant your garden in loose easily workable fertile soil.
Best Broadfork
What is a Broadfork?
A broadfork is a simple yet effective digging tool that makes it easy to loosen compacted soil without disrupting its complex structure. This is important because healthy soil is made up of many different layers that help promote plant growth and nutrient absorption. A wide range of lifeforms also live in these different layers like bacteria, fungi, and earthworms, with each one of them actively contributing to a healthy soil structure.
This structure takes time to develop at different depths, and each layer needs to have just the right texture, nutrients, and moisture content. If you turn the soil over completely using a tiller or with a digging fork you'll end up damaging the delicate soil structure. This can harm the interdependent ecosystem that resides in each soil layer, and it can lead to soil compaction and poor nutrient absorption.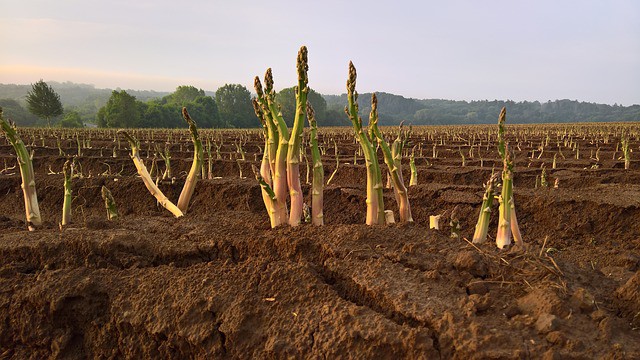 Think of it this way: If you turn your soil over completely you'll end up killing off a large number of the beneficial inhabitants that reside in your soil. This living labor force will have to spend a good part of the season just bouncing back from all the damage done from turning over the soil. That means they won't have much time once they recover and improve the fertility and friability of the soil.
A broadfork will help you loosen the soil without damaging the delicate balance that leads to healthy productive garden. Broadforks simply penetrate and loosen the soil, rather than completely turn it over, that helps preserve the soil texture and it limits the harm done to the organisms in the soil.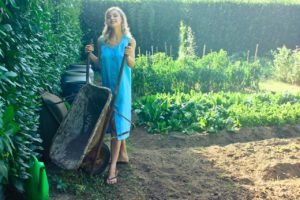 Broadforks are also great if you want to avoid all the back-breaking labor that comes along with starting a garden. You can also get broadforks that have been ergonomically designed to let you stand upright and use your more of your body weight to loosen the soil. That means you'll be able to use a broadfork to start your garden much faster then you would with a digging fork or a shovel.
The Best Broadforks On Amazon
The Treadlite Broadfork (Buy Online) is one of the most popular and affordable broadforks on the market. It's made in the U.S.A. with durable ash wood or metal handles, and the 1/4-inch CNC cut tines are durable enough to withstand the rigors of loosening hard compacted soil. That means you can be sure that this broad fork will provide you with many years of service on your farm, allotment, or family garden.
The Treadlite broadfork also comes in five different models that will meet the needs of any size farm or garden. The small 4 & 5 tine broadfork step tube measures 20" x 5" with 48" handles and they each weigh under 15 pounds.
While the larger 6 & 7 tine broadfork step tubes measure 24" x 5", with 48" handles and they each weigh under 20 pounds.
Handle length: 48-inches

Head width: 20 to 24-inches

Tines: Curved, 12-inch length
The DeWit Broadfork (Buy Online) has a unique ergonomic design that will help protect your wrists and back from repetitive stress injuries. Unlike most broadforks that have two separate handles, the DeWit broadfork handles are part of its rigid uni-body frame. The solid frame makes this broadfork more durable and less prone to flexing when loosening hard compacted soil.
The handles also have a slight bend to them that will give you more leverage when digging, so you won't have to strain your back to break up tough hard-packed soil. The slight bend in the handles also puts your wrists and hands in a neutral position, which will let you work for hours before you get tired of digging in your garden.
Handle length: 40.9"

Tines: Straight, 9.4"

Head width: 14.2"

Weight: 2.6 lbs
The LAM Broadfork (Buy Online) is a durable straight tine broadfork. It has a solid steel body design, and it has thick 6 5/8-inch tines that will tear through any type of soil. This broadfork is welded by hand, and each one is made to order, and its simple steel design means it will give you a lifetime of service.
The only downside to this broadfork is the handles are square-shaped, so they might be hard on your hands. However, you can put grips over the handles or wear gloves if you want to protect your hands from getting blisters.
Handle length: 46"

Head width: 20"

Tines: Straight, 13"
The Bully Tools Broadfork (Buy Online) is one of the most affordable broadforks on the market. This broadfork is made in the U.S.A and it has high-strength fiberglass handles, and it comes with a lifetime warranty. The head of this broadfork is made from extra thick 10 gauge steel so it can handle a home garden or commercial use.
The Bully Tools Broadfork has a head that measures 20-inches by 11-inches with 5-inch steel tines. The fiberglass handles measures 43.75-inches long and they have vinyl grips that help take the stress off your hands. The Bully Tools Broadfork also has detachable handles so you can easily store it out of the way at the end of the season if space is limited.
Handle length: 54.5"

Head width: 20.25"

Tines: Curved, 10.75"
The EZ Digger Broadfork (Buy Online) has a unique modular design that sets it apart from all the other broadforks on this page. The digging spikes on this broadfork are removable, so if you ever break a tine you can easily replace it. You can also get shorter tines for harder soils, or you can use the included long tines to deeply aerate soft soil.
The handles are also removable, so you can easily pack it away when it's not in use over the winter. The overall width of the digging head is 24-inches, and the tines that come with it are 12-inches long, and you can get a set of 6-inch tines added on to your order. Also, the handles are 44.8-inches tall, and they are made from durable powder-coated square steel with rounded corners.
Handle length: 48.8 inches

Head width: 24-inches

Tines: Straight (Replaceable), 6-inch and 12-inch
How to use a Broadfork
How to Choose The Right Broadfork
Size
There a couple of things you need to consider when you decide what size broadfork you should purchase. When it comes to sizing your broadfork you need to take into account the size of the garden you plan on aerating. You'll also want to get a broadfork that's large enough to quickly loosen the soil, but at the same time, it shouldn't be so large that it becomes cumbersome and hard to maneuver.
Broadforks usually come in either standard or tall sizes. This doesn't have much to do with the size of the person using them, but instead, this usually refers to the length of the tines and the height of the handles. The taller models have longer tines that are better at loosening deep soil, and the extra handle length will give you more leverage when you need to break up hard pack soil.
You also need to consider the width of the broadfork since this can play a role in how fast you can loosen a given area. In most cases, a wider broadfork will allow you to prepare a garden more quickly, but they can also be heavier and harder to handle. A wide broadfork might also be harder to use if you have a small garden with a tight row spacing.
Curved of Straight Tines
The structure and mineral content of your local soil will require either a curved or straight tine broadfork to effectively loosen the soil. Curved broadforks are better suited for soft sandy soils that hold ample amounts of moisture. While straight tine broadforks are better for thick clay, and densely packed dry soil. It's a good idea to inspect your soil before you choose a curved or straight tine broadfork to prolong the life of the broadfork, and to make it easier to loosen the soil.
Ergonomics
If you want to limit the stress on your body it's a good idea to get an ergonomic broadfork. These types of broadforks usually have a slight bend in their handles to give you more leverage while digging. That greatly reduces the amount of effort you need to put into pulling down the handles to loosen the soil.
The DeWit broadfork (Buy Online) is one of the best ergonomic broadforks, and it's the one we use in our garden since it makes it much easier to loosen our hard soil.
Don't forget that you'll be using a broadfork for at least a few hours each day, and you'll be engaging in a lot of repetitive motions. That's why you should make sure to find one that has an ergonomic handle and a wide base since the health benefits will pay off in the long run.
Garden Size
Broadforks are great aeration tools for home gardens, small farms, market gardens, and homesteaders. In most cases, a broadfork will make short work of a plot that's around 300 to 1000 square feet. However, a tiller will break ground much faster if you have a very large garden or a commercial farm.
Broadfork Cost
Broadforks come in a wide range of prices that range from $50 to $300. Most standard sized broadforks will usually cost you about $90-$160. The factors that play the largest part in a broadforks cost are:
Broadfork Material (Aluminum, Steel, or Fiberglass)

Handle Length and Head Width

Handle Material (Metal, Wood, Composite)
If you're looking for a low-cost broadfork we recommend the Bully Tools Broadfork (Buy Online). It cost less since the handles are made out of fiberglass instead of steel, but it's still very durable and it's built to last even when used in commercial gardens.
The more expensive broadforks have a steel unibody construction and they have thicker tines and they tend to be more ergonomic. The DeWit broadfork (Buy Online) is the one we recommend to all our fellow gardeners.