Plant covers will keep your plants safe from frost damage when the temperature drops below freezing. The best plant covers for winter can also make it possible to extend your growing season in more temperate regions.
On this page, you'll find a plant protector guide to help you find the right frost covers for plants to keep your garden growing well into the winter.
Best Plant Covers for Winter
Plant Covers for Frost
Agfabric Floating Row Covers (Buy Online) are one of the best plant covers for cold weather. These plant protectors are made from a woven polypropylene material that provides superior insulation from cold winter weather.
Agfabric Floating Row Covers are available in different weights ranging from 0.55 oz/yd² to 1.2 oz/yd². The heavier material works better as a frost blanket in regions with colder winters, while the lighter frost protector is better suited to areas that experience warmer winters.
The Agfabric Floating Row Covers make excellent DIY plant covers for winter since they can be cut to size, and they can also be sewn together for use on trees, shrubs, and for covering potted plants. Overall, if you're looking for one of the most versatile plant covers for frost you can't go wrong with Agfabric Floating frost protectors.
The Tierra Garden 50-5010 Haxnicks Fleece Garden Tunnel (Buy Online) is one of the best vegetable garden covers. This garden row cover kit comes with a woven fleece frost blanket along with a sturdy steel frame.
The frost blanket is made from a thick UV stabilized polypropylene fleece that weighs 1.3 oz/yd². The included plant protection cover also has drawstrings sewn into each end that make it easy to attach and secure to the steel frame.
The steel frame is made from galvanized steel, and it comes in individual hoop segments that don't warp or bend easily. That makes the Tierra Garden Fleece Garden Tunnel one of the best plant covers for winter if you experience lots of snow, wind, and rain.
Frost Blanket
The Planket Plant Frost Protection Cover Kit (Buy Online) is one of the best plant covers for winter if you live in an area that frequently experiences hard freezes. This frost blanket is designed to provide superior frost protection while still allowing ample air exchange.
The Planket won't allow much light to pass through the fabric, so it's not suitable for extending your growing season. It's made to offer protection for sensitive plants like fig trees that can suffer frost damage if they aren't protected during the winter.
The punada Premium Plant Cover (Buy Online) is a light-weight frost cloth for plants. These frost covers are made from durable poly fabric that weighs 0.74 oz/yd², and they offer frost protection down to 35 degrees Fahrenheit.
The ETSAMOR Winter Plant Protection Frost Cloth Blanket (Buy Online) is a heavy-duty winter cover for outdoor plants. This frost blanket is capable of providing frost protection down to 30 degrees Fahrenheit.
Pop-Up Plant Protector
The Nuvue Products Winter Snow and Frost Cover (Buy Online) is a pop-up plant protector that's large enough to protect medium-sized plants. It's made from durable tear-resistant fabric that will repel sleet, snow, and driving rain. While at the same time the fabric will still allow air, light, and moisture through the permeable synthetic fabric membrane.
The Nuvue Products Winter Snow and Frost Cover make it easy to protect an individual plant in the winter if you get a sudden frost warning. All you'll need to do is place the cover over the plant you want to protect, and then secure the plant protector to the ground using the included stakes.
The Green NuVue Products Frost Cover (Buy Online) offers better frost protection in colder regions. The fabric covering on this pop-up plant protector is thicker and offers better insulation than the light-weight NuVue Frost Covers. However, this frost protector will block more light, so it should only be used on plants that have already entered dormancy.
Styrofoam Plant Covers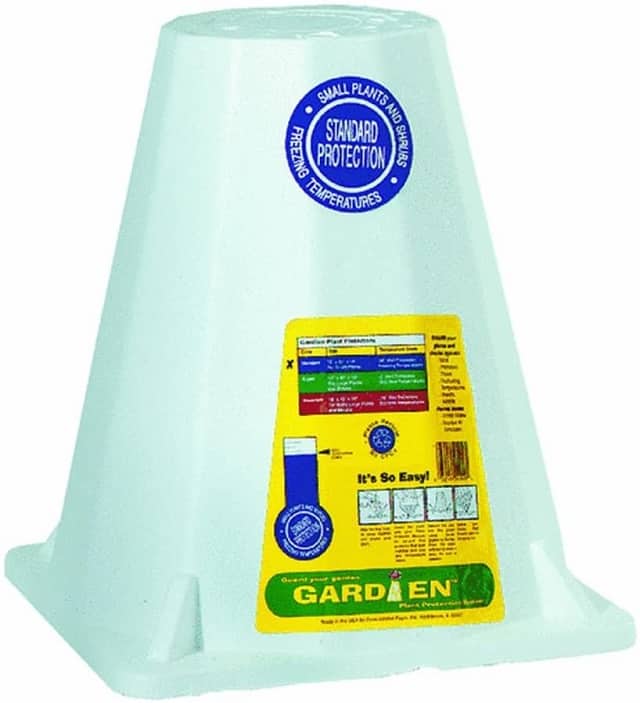 The Gardien Standard Rose Kone (Buy Online) is one of the most popular Styrofoam rose cones on the market. The Standard Gardien Rose Kone measures 12" L x 12" W 14" H and it has 0.38-inch thick Styrofoam walls. This rose cone is specifically designed to protect plants from hard frosts since Styrofoam has superior heat retention properties compared to polypropylene.
Plant Protection Covers
Tikola Plant Covers (Buy Online) are the best plant covers for winter if you need to protect a medium-sized tree. This plant covers measure 4 feet wide and they are 6 feet tall, and this frost cloth is made out of woven polypropylene fabric. Each plant protection cover also has a drawstring that will prevent the cover from blowing off in high winds.
ANPHSIN Plant Covers (Buy Online) are light-weight plant covers that are suitable for small trees. These plant covers measure 59-inches x 35-inches, and they have a built-in drawstring. These plant protection covers are great if you need to protect potted citrus trees from frost damage, or they can also be used to quickly protect delicate tropical trees from a mild freeze.
Frost Covers for Plants Home Depot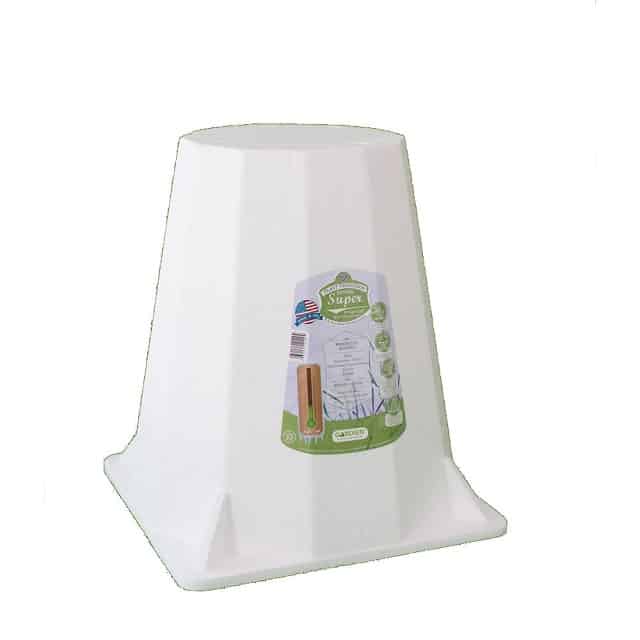 The Gardien Super Protection Foam Plant Protector (Buy Online) is made to protect soft woody plants like roses from frost damage. This Styrofoam rose cone measures 16" W x 16" L x 18" H and it has 0.5-inch thick Styrofoam walls. These plant protectors are available for purchase online and you can pick them up at your local Home Depot, which is great if you need them quickly to protect your roses from an unexpected hard freeze.
Plant Covers for Winter Walmart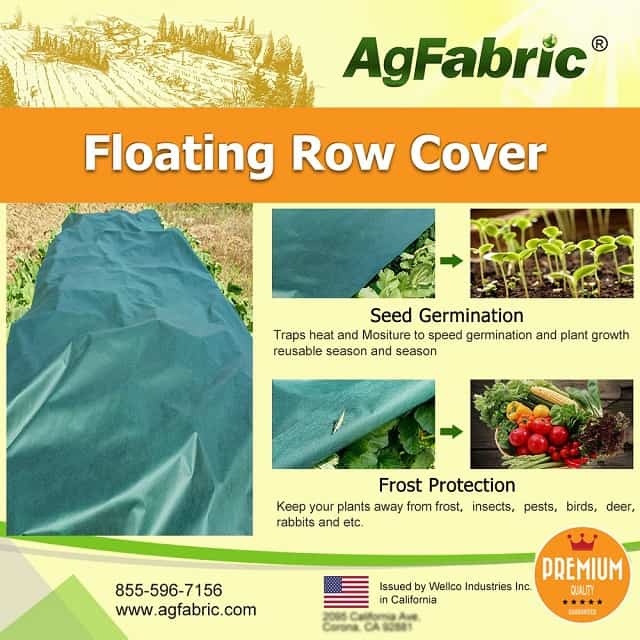 The Agfabric Warm Worth Heavy Floating Row Cover and Plant Blanket (Buy Online) will protect plants from snow, wind, hail, sleet, and rain. This frost blanket weighs 0.9 oz/yd², and it comes in sheets that are 10 feet wide, and you can get them in lengths that range from 12-feet all the way up to 50-feet.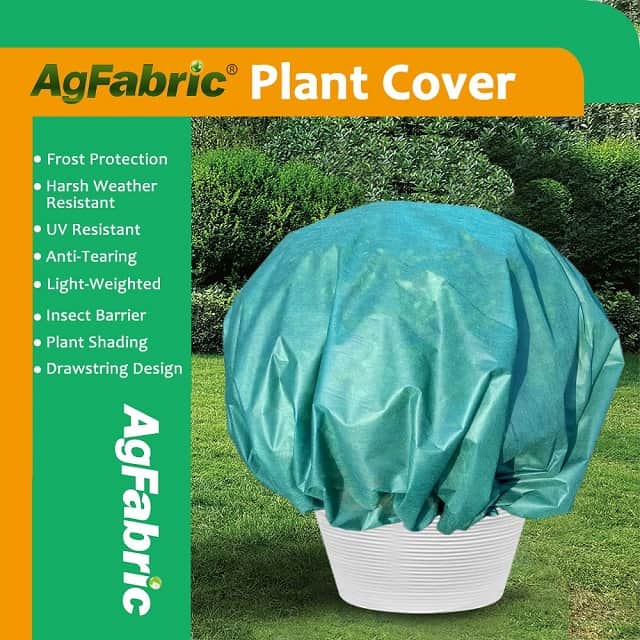 The Agfabric Plant Cover Round Warm Worth Frost Blanket (Buy Online) is the best plant cover for winter if you need to cover a medium-sized topiary. This 8-foot diameter frost cover is made to fit over round shrubs, and it has a built-in drawstring that makes it much easier to securely protect shrubs from wind, snow, hail, and freezing rain.
Styrofoam Rose Cones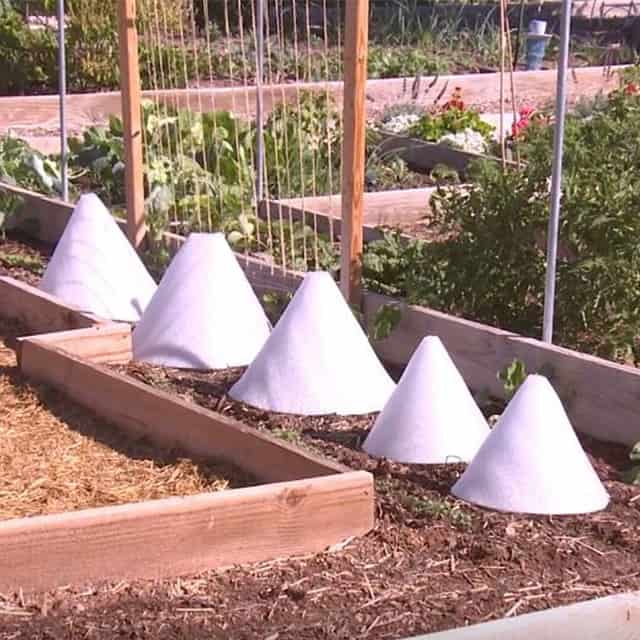 Solar Cone Plant Protector Covers (Buy Online) are an effective way to protect roses from a hard winter freeze. These Styrofoam rose cones are 15-inches tall and 17-inches wide, and they have 0.25-inch thick walls. They also come with a 6 mil plastic tube that you can fill with water for additional heat storage capacity.
Frost Blanket vs Row Cover
If you're looking for short-term protection from frost then a frost blanket is the best option if you only need to use a plant protector over your plants temporarily.
Otherwise, if you need protection from frost for a longer period then a row cover would be the better solution to protect your plants in the winter and early spring.
Frost Blanket
A frost blanket is a covering that you can place over your plants that helps protect them from frost damage. Frost blankets work best when they are draped over your plants at the end of the day to trap and retain heat. Then in the morning, you'll need to remove the frost blanket to avoid damaging the plants under the weight of the blanket. That makes frost blankets suitable as a temporary frost protection measure, but they aren't that useful for longer-term frost protection.
Row Cover
Floating row covers are a better long term solution if you need to protect your plants all winter. Row covers have metal frames that you can drape a frost cloth over, so the weight of the cloth is fully supported by the frame. The frame also traps more air around the plants which helps provide even more insulation. Floating Row covers can also be kept over your plants in the winter to protect them from snow, sleet, and rain.
Row Cover Frost Protection Temperature
A light frost can happen even if the air temperature hasn't reached 32 degrees Fahrenheit (0 C). Frost can begin to form at 36 degrees Fahrenheit, and some delicate plants can suffer damage at this temperature.
Most plant covers are designed to protect plants from frost damage in air temperatures that range from 25 to 28 degrees Fahrenheit. Thicker frost blankets will provide better protection at lower temperatures, while thinner plant protectors will only offer protection from a light freeze.
Plant covers for frost protection will generally increase the temperature underneath the frost cloth by 5 degrees Fahrenheit compared to the ambient air temperature. While thicker frost blankets and floating row covers are capable of increasing the temperature around the plants by up to 10 degrees Fahrenheit.
Plant Cover Materials
Plant protection covers come in a wide range of different materials that each have their own benefits and drawbacks.
Plastic
Plastic covers are the simplest plant covers for cold weather and you can find them at most garden centers. These types of plant covers will trap heat and protect plants from a light frost. However, plastic plant covers don't breathe, and they can trap moisture underneath them that can actually cause worst frost damage due to the excess moisture that can build up on the plant's leaves.
Polypropylene
Polypropylene is a breathable plastic that can be woven like a fabric. A polypropylene plant cover can be purchased as a mesh, net, sheet, or insulating fleece. That makes polypropylene plant covers serve as a much better plant protector for winter since it protects plants from frost, and it allows air, water, and light to pass through to the plants so they can continue to grow even if the temperature outside drops below freezing.
Styrofoam
Styrofoam plant covers are made to protect dormant woody plants from a hard freeze. These are the best plant covers for winter if you're looking for plant covers with freeze protection. The major downside to using Styrofoam is that it won't let much light pass through, and it doesn't allow any air exchange.