How Cold Can Coleus Tolerate Outdoors? Coleus is a tropical plant that isn't able to tolerate cold temperatures or light frosts. If you want to keep your coleus plants alive during the late fall and winter you'll need to bring them indoors.
Keep reading this article to learn more about the optimal coleus temperature range, and how you can grow coleus in containers to keep your plants alive all winter long.

The coleus plant is a tropical plant that does best in temperatures that range from 70° to 100° F. This is the ideal coleus temperature range that will promote vigorous growth. However, coleus will grow in temperatures as low as 50° F, but anything below that temperature will inhibit the growth of a coleus plant.
Optimal Coleus Temperature Range: 70° to 100° F | (21° to 38° C)

Lowest Temperature for Coleus: 50° F | (10° C)
Light frost or freezing temperatures will immediately kill a coleus plant. If you want to overwinter your coleus plants you'll need to take steps to winterize coleus before they are damaged by cold temperatures or killed off by frost.
Overwinter Coleus
Coleus in Containers
One of the best ways to overwinter coleus is to grow it in a container and bring it indoors once the temperatures at night start to approach 50° F.
Potted Coleus plants can be put in a sunny area in your house on a south-facing window, or if you don't have a sunny spot you can place them under a grow light.
Once the temperature starts to consistently stay above 50° F in the spring you can bring the pots back outside and place them in a warm sunny spot. Then as the temperature starts to approach 70° F you'll want to move them into the shade where they won't get too much sun exposure.
Coleus Cuttings
You can also take cuttings off your coleus plants in the early fall if you don't have room in your house for large pots. All you'll need to do is root 3 to 4-inch cuttings (7-13 cm) using rooting hormone (Buy Online) and place them in small pots filled with peat moss.
The cuttings can then be placed on a south-facing windowsill or under a LED Grow Light (Buy Online). Then once the weather warms up again you can either transplant the cuttings right into your garden or transfer the cuttings into larger pots.
Will Coleus Come Back Every Year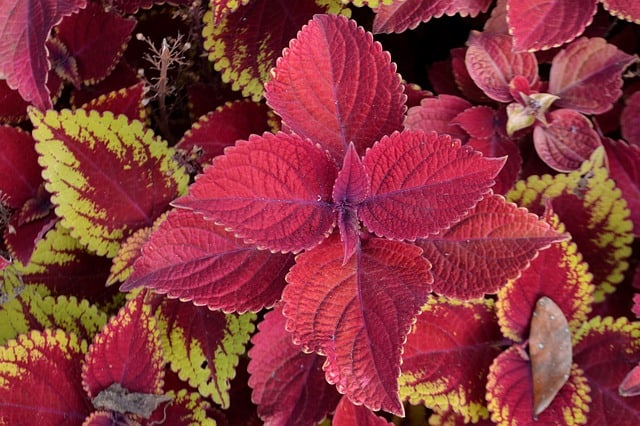 Coleus won't come back every year if the temperature in your growing zone falls below 50° F for a prolonged period. Coleus also won't survive in areas that experience freezing weather or even mild frosts.
Is Coleus Perennial Zone 5
Coleus is not perennial in zone 5 since the average annual minimum temperature in that USDA Hardiness Zone is -20° to -15° F (-26.2° to -28.8° C).
Is Coleus a Perennial in Zone 7a
Coleus is not perennial in zone 7a due to the fact that the average annual minimum temperature in that USDA Hardiness Zone is 0° to 5° F (-15° to -17.7° C).
Best Coleus for Shade
Blue Angel Coleus (Buy Online) is a stunning coleus variety with a very unique color. This coleus plant has blueish-purple leaves with a white fringe that looks amazing against a backdrop of Hostas in a shade garden. Best of all you'll be able to fill your shade garden with this lovely plant since each seed pack contains 100 seeds.
Park Seed Giant Exhibition Complete Mix Coleus Seeds (Buy Online) is a great way to add a mix of vibrant coleus to your shade garden. This seed pack contains a mix of plants with rich burgundy, scarlet, maroon, bronze, cream, pink colors. Each seed pack includes 20 seeds.
Seed Needs, Rainbow Coleus Mix (Buy Online) contains a blend of classic coleus varieties that will perform well in any garden. Each plant will reach a height of 18 to 32 inches, and they will fill out to be 8 to 12 inches wide. This coleus mix is also a great value since you get two packets and each packet contains 800 seeds.
Coleus Kong Red (Buy Online) has large dark red and green leaves that sport an interesting color pattern. The Kong Coleus plants also grow to be quite tall, and they fill out nicely since they produce a lot of lateral branches. Coleus Kong comes in seed packets that contain either 20 or 40 seeds.
Is Kong Coleus Annual or Perennial
Kong Coleus is more cold-tolerant than most coleus varieties. However, it's still an annual and it won't perennialize unless you live in a tropical environment.
Burpee Chocolate Covered Cherries Coleus Seeds (Buy Online) are a deep crimson and burgundy plant that will add some dramatic color and texture to your garden. This coleus variety also remains relatively compact since it only grows to be 12" high x 10" wide, which makes it a great plant for borders and small gardens. Each seed packet of Chocolate Covered Cherries Coleus contains 10 seeds.
Coleus Jazz Velvet (Buy Online) is the best coleus plant to grow if you want to add a splash of bright color to your shade garden. These eye-catching plants have solid pink leaves with light green and white leaf margins. Coleus Jazz Velvet comes in seed packets that contain either 100 or 200 seeds.
Best Coleus for Sun
The Watermelon Coleus (Buy Online) is a great plant to add a splash of color to a partially shaded spot in your garden. This Burpee exclusive coleus variety has high-contrast leaves with a bright magenta center and lime green edges. Each seed pack contains 25 seeds.
Growing Coleus Indoors
The AeroGarden Coleus Seed Pod Kit (Buy Online) makes it easy to grow coleus indoors during the winter if you have an AeroGarden (Buy Online). This Seed Pod Kit comes with pre-seeded pods that fit into any AeroGarden, and it also includes a 3 oz bottle of hydroponic liquid fertilizer.
The Rainbow Coleus Terrarium (Buy Online) is a fun way to grow coleus indoors in a self-contained environment. This small live coleus plant comes in a terrarium, and it's rooted in tissue culture gel that will supply the plant with all the water and nutrients it needs to grow. All you'll need to do when you get this plant is place it in a location that gets indirect sunlight and watch the plant grow.
The Rainbow Coleus Terrarium is also a fun and unusual gift for a gardener, or for anyone who has trouble keeping houseplants alive.